The demand for upgraded televisions and streaming content has increased significantly during the coronavirus pandemic. Nielsen reports that streaming services currently account for a quarter of all TV viewing in North America and, according to CES producer the Consumer Technology Association (CTA), consumers upgrading their TVs led to a shipment record for 2020, a trend expected to continue this year. In addition, an Ampere study indicates that the average U.S. household subscribes to four streaming services. CES 2021 showcased a compelling array of TVs and related tech, including 8K, QNED, MicroLED, MiniLED, NanoCell TVs, ATSC 3.0 (NextGen TV), Filmmaker Mode, transparent displays, enhanced game support and more.
CTA predicts about 43 million units will ship this year, some of which will be 8K and/or a minimum of 70 inches. Research by the Advanced Television Systems Committee (ATSC) suggests that viewers are most interested in higher resolution and enhanced audio from 3D speakers, sound bars and 21.1 channels.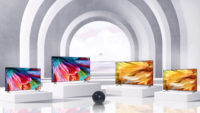 "They also want higher dynamic range, higher frame rates and bigger displays and Filmmaker Mode, a button that sets a film's color-palette, contrast, aspect ratio and frame rate supposedly as the director envisioned," reports TV Tech. "In fact, they want the whole package to which can now be added 'smart interactive personalization.'"
"What is exciting is the synergy between these consumer desires and today's TVs, which are bringing these features to life," said ATSC president Madeleine Noland during one of the CES panel sessions.
ATSC 3.0 also made a splash during CES 2021. "Broadcasters are excited to add IP-based NextGen TV since it enables them to create dramatically different experiences than cable or streaming by adding web-like capabilities," reports TWICE. While the pitch for ATSC 3.0 commonly emphasizes 4K resolution, at this year's CES execs also pointed out the audio possibilities.
"In addition to enabling broadcasters to air 4K content, offer HD fare with High Dynamic Range luminance and a wider color gamut, and serve interactive content and targeted ads alongside traditional programming, ATSC 3.0 includes Voice Plus," explains FierceVideo. "That lets viewers enhance dialog to make it audible above crowd noise and other background distractions."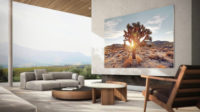 ETCentric stories: Among the other TV highlights, we saw Samsung's new MicroLED TVs with improved contrast, including the 110-inch "The Wall" (pictured above); a 48-inch bendable OLED monitor from LG, ideal for gaming; an impressive Spatial Reality Display from Sony; support for Google TV by multiple manufacturers; Samsung's The Frame TV with the ability to change its orientation; a new OLED flagship from Panasonic with multidirectional sound support; Sony's Crystal LED modular displays for multiple applications, including virtual sets; a transparent OLED set from LG (pictured below); new MicroLED TVs with improved contrast from Samsung; and ATSC 3.0 support from Sony, LG and others.
Below are links to articles that our editorial staff found of particular interest regarding TV trends:
All the New TV Smarts From CES 2021: Virtual Event Still Had Some Surprises (TV Tech)
ATSC 3.0 Backers Tout a Brighter Picture for NextGen TV at CES 2021 (Fierce Video)
NextGen TV to Deliver 4K TV for More Broadcasters, TVs, and STBs (TWICE)
LG Announces 2021 NextGen TVs, Press Release
What TV Remotes Tell Us About Power Struggles in Streaming (Protocol)
Ampere: U.S. TV Households Now Average Four Streaming Services (TV Tech)
TV Shipments to Dip in 2021 Despite 8K Surge – CTA (Light Reading)
CTA: 2020 Record Year for TV Shipments (TV Tech)
U.S. Consumers Going Bigger with Their TVs, NPD Finds (TV Tech)
Awards-Screener Streaming Apps Considering Filmmaker Mode Support (The Hollywood Reporter)
Goodbye and Good Riddance to the 16:9 Aspect Ratio (The Verge)
Best TVs of CES 2021: Brighter OLED, Mini-LED QLED, 8K and HDMI 2.1 (CNET)
The Best TVs of CES 2021: Samsung, Sony, LG, TCL (Digital Trends)
Best TVs of CES 2021: Samsung, LG, Sony and More (Tom's Guide)
CES 2021: LG Rolls Out OLED, QNED Mini LED and NanoCell TVs (TV Tech)
CES 2021: Samsung's Huge MicroLED TVs Let You Watch Four Things at Once (CNET)
CES 2021 TV Preview: 8K, OLED, MicroLED Screens Remain Huge, Hype Shrinks (CNET)
CES 2021 TVs Wrap-Up: Begun the Brightness Wars Have (CNET)
Dell Built a Range of Monitors for Video Conferencing (Engadget)
Dell Reveals World's First 40-Inch, Ultrawide, Curved 5K Monitor Ahead of CES (Digital Trends)
Dell Unveils Its First 40-Inch Ultrawide Monitor (Engadget)
Every New TV Announced at CES 2021, From LG to Samsung (Tech Radar)
Forget Foldable TVs. Transparent Screens Are the Cool New Tech Trend (CNN)
Hisense's 2021 Laser Projection TVs Promise Better Colors Than OLED or Quantum Dot (CNET)
LG Display's Transparent OLED Puts a Screen Between You and the Sushi Chef (Engadget)
LG Imagines a Bed with a Hidden See-Thru OLED TV Set (The Verge)
LG OLED TV Evo at CES: Brighter OLED Is Coming, But How Much Will It Cost? (CNET)
LG's Transparent OLED TVs Are Now Even More See-Through at CES 2021 (CNET)
Panasonic's Latest OLED TV Offers Gaming Upgrades and AI Tuning (Engadget)
Panasonic Unveils New OLED TV at CES 2021 with Incredible Surround Sound (Tom's Guide)
Samsung Announces Massive 110-Inch 4K TV with Next-Gen MicroLED Picture Quality (The Verge)
Samsung Built a 110-Inch Version of its MicroLED 'Wall' TV (Engadget)
Samsung's 4K and 8K Neo QLED TVs Are Powered by Mini-LEDs (Engadget)
Samsung's The Frame TV Just Got a Killer Feature Other Sets Can't Beat (Tom's Guide)
Samsung's Larger 'Frame' TV Can Now Switch into Portrait Mode (Mashable)
Samsung's Latest Experiments Include a Phone App to Calibrate Your TV (Engadget)
Sony Electronics Named CES 2021 Innovation Awards Honoree for Spatial Reality Display (Press Release)
Sony Finds a Home for Crystal LED Screens: Virtual Set Backgrounds (Engadget)
Sony Introduces Two New 'Crystal LED' Modular Direct View Display Systems (Press Release)
Sony Is Going to Start Selling Its Mandalorian-Like Virtual Set Displays (The Verge)
Sony Unveils Mind Blowing Spatial Reality Display at CES (Grit Daily)
Sony's 2021 TV Lineup Runs Google TV and Fully Embraces HDMI 2.1 (The Verge)
Sony's New Bravia XR TVs Are All About 'Cognitive Intelligence' (Engadget)
TCL Announces its Google TV Launch at CES 2021 to Offer Very Best Content with Superb Viewing Experience (Press Release)
Wireless Power Runs This 40-Inch TV Concept at CES 2021 (CNET)
You Can Install Samsung's Latest MicroLED TVs Yourself (Engadget)
Click here for more information on the speakers, panels and new products at CES 2021 (#CES2021).
Topics:
4K
,
5K
,
8K
,
Advertising
,
Ampere
,
ATSC
,
ATSC 3.0
,
Audio
,
CES
,
CES 2021
,
Coronavirus
,
COVID-19
,
CTA
,
Dell
,
Filmmaker Mode
,
Gaming
,
Google TV
,
HDR
,
HFR
,
Hisense
,
IP
,
LG Electronics
,
LG Evo
,
Madeleine Noland
,
MicroLED
,
MiniLED
,
NanoCell
,
Nielsen
,
OLED
,
Panasonic
,
QNED
,
Samsung
,
Smart TVs
,
Sony
,
Sony Bravia
,
Spatial Display
,
Streaming
,
TCL
,
Television
,
Video
,
Voice Plus