LG Display demonstrated "the world's first" 48-inch, bendable, 4K gaming monitor during CES 2021. According to LG, the monitor's thin OLED screen features a curvature radius that allows it to bend up to 1,000 mm without impacting the display's functionality. The company's Bendable CSO (Cinematic Sound OLED) display is designed to serve as a traditional flat screen for watching television and easily convert to a curved screen for a more immersive gaming experience. The display also includes tech that enables it to vibrate and create sound without speakers.
"The curved display offers a uniform viewing distance from the middle of the screen to its edge, maximizing the visual immersion that is popular among gamers," reports Engadget. "In addition, the company's CSO technology enables OLED displays to vibrate and make their own sound without the use of any speakers, offering a vivid sense of reality as if the on-screen characters were talking directly to the viewer."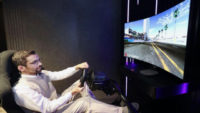 The screen uses "LG Display's CSO technology to generate sound," notes TechRepublic. "First showcased at CES 2017, CSO screens create sound waves using an exciter mounted behind the display to vibrate the OLED screen itself. The display essentially becomes the speaker. The exciter in the new 48-inch Bendable Cinematic Sound OLED display is only 0.6mm thick — down from 9mm when CSO was first introduced four years ago."
OLED tech has been generating "attention in the gaming TV market for its superiority, as each pixel emits its own light, offering an infinite contrast ratio," according to the LG press release. "This creates another level of vivid picture quality, along with the seamless experience delivered by a response time of 0.1 milliseconds, a refresh rate of 120Hz per second, and a wide variable refresh rate range from 40Hz to 120Hz."
"LG Display's 48-inch Bendable CSO display is optimized for gaming as it maximizes the use of advanced technology that produces another level in terms of providing an immersive experience. In other words, it offers the very best gaming environment to gamers," said Dr. Chang-ho Oh, EVP & head of the TV Business Unit at LG Display.
Click here for more information on the speakers, panels and new products at CES 2021 (#CES2021).
Related:
Enhanced and Upgraded for 2021, LG's Newest Ultra Series Monitors Exceed All Expectations, LG Newsroom, 1/12/21
Topics:
4K
,
Audio
,
Bendable Monitor
,
CES
,
CES 2017
,
CES 2021
,
Chang-ho Oh
,
Cinematic Sound
,
Contrast Ratio
,
CSO
,
CTA
,
Curved Screen
,
Display
,
Gaming
,
LG Display
,
LG Electronics
,
LG Ultra Series
,
Monitor
,
OLED
,
Screen
,
Sound
,
Sound Waves
,
Speakers
,
Television
,
Video Game