During CES 2021, Samsung showed upgrades to The Frame, a so-called "lifestyle TV lineup" first introduced in 2017. The Frame now offers a thinner frame and can rotate to landscape and portrait orientations. Last year, Samsung showcased The Sero, its first rotating television, that was social-media friendly and doubled as a smart art display. A more elegant and slimmer version, The Frame is a 43-inch, top-of-the-line model. Netgear's popular Meural Canvas smart art frames also swivel to offer both landscape and portrait views.
Tom's Guide reports that, when not acting as a TV, The Frame can display art of the consumer's choosing, including "over 1,400 carefully curated pieces" from Samsung's Art Store. It adds that, "the company's new curation technology can even recommend artwork using AI." The build is "about half as thin as previous models to emulate the appearance of a traditional picture frame," which enables it to "blend in more when you're not watching TV."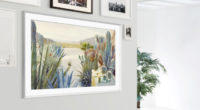 The consumer has the option of five bezel color options and two mold styles. Samsung has yet to announce pricing or availability, but the current Frame TV "starts around $600 for the 32-inch model and goes up to $2,800 for the 75-inch version." The company's lifestyle TV lineup also includes "The Terrace, a QLED outdoor set announced over the summer, as well as The Premiere, a luxurious, 130-inch 4K projector."
Mashable reports that, originally, only the 32-inch Frame TV came equipped with the rotation feature. The rotating Sero, it notes, "when connected to your phone … automatically flips between modes depending on the orientation of your phone." The new Frame TVs will offer Modern and Beveled edge styles and, those who wish to avail themselves of Samsung's Art Store need a $4.99 per month subscription.
Samsung said it plans to ship the new TVs "in the first half of the year."
Click here for more information on the speakers, panels and new products at CES 2021 (#CES2021).
Related:
Samsung's Even Slimmer The Frame TV Returns to CES 2021, Disguised as Wall Art, CNET, 1/12/21
Samsung's New The Frame TV Is Closer Than Ever to a Real Work of Art – Here's Why, TechRadar, 1/6/21
Samsung Updated 'The Frame' TV at CES, so Amazon Put the 2020 Model on Sale, Mashable, 1/13/21