During CES 2021, LG provided a peek into its LG Rollable, the company's first phone that transforms between smartphone and tablet form factors. One company executive said the LG Rollable — positioned as a strong alternative to existing foldable phones — will debut sometime this year. Meanwhile, TCL is developing a device based on the same approach, but the company reported it is only at the conceptual planning stage. But both LG and TCL did leak some information about the upcoming devices' specifications.
Tom's Guide reports that the LG Rollable's display "would likely extend using the same type of technology LG pioneered for its super expensive LG Rollable OLED TV R." In December, a leak revealed that the LG Rollable display "would grow to as large as 7.4 inches in tablet mode with a resolution of 2428 x 1080 … and] to expect a Snapdragon 888 processor and 16GB of RAM, as well as a 4,200 mAh battery (which seems on the small side)."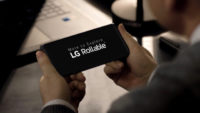 The reported price for the LG Rollable is $2,359, "even higher than the Samsung Galaxy Z Fold 2's retail price of $1,999," and is rumored to be slated for a March release.
TechCrunch reports that, between the LG and TCL devices, "LG's product is — for the moment — the more notable of the two, largely because the company plans to actually release the thing," per an interview with company spokesperson Ken Hong. TCL provided few details except that its devices are "capable of expanding from 6.7 inches to 7.8 inches."
CNET reports that, "TCL, which has shown off multiple foldable prototypes over the last two years and which teased more rollable concepts during CES, will finally release a foldable phone to consumers this year," according to the company's general manager of marketing Stefan Strait. Verizon consumer business chief executive Ronan Dunne noted that, "form factor innovation is definitely a feature."
Its two rollable concepts include "a smaller phone with a screen that extends upward to 6.7 inches while in portrait mode and the other a 17-inch display that unfurls from both ends like a treasure map."
It adds that, "the LG Rollable phone's display harkens back to the Signature LG OLED R, the rollable TV that's been a highlight of the past few CES LG conferences," adding that "employing flexible displays in a large 65-inch television is impressive but squeezing that technology into a handheld phone is another challenge."
"I can't help but marvel at the technological innovation that goes into these," said IDC analyst Ramon Llamas. "It says a lot about display technology and their resolution that can be tucked into such a flexible form factor."
Click here for more information on the speakers, panels and new products at CES 2021 (#CES2021).