First announced in November of last year, Sony unveiled a drone at CES 2021 that the company says is the smallest of its kind capable of accommodating a Sony Alpha mirrorless camera for professional photography and producing video projects. While Sony did not reveal pricing or specs, the drone is is said to be shipping sometime this spring. The quadcopter design shown during the all-digital CES featured two landing gear extensions that are designed to retract during flight so they do not get in the way of shooting stills or video.
"Today we're going to introduce a product that integrates AI and robotics, designed for adventurous creators," explained Sony CEO Kenichiro Yoshida in a video now accessible from the Airpeak website. "With Sony's Alpha camera … stable, dynamic remote shooting is possible."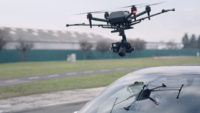 Also available on the site's News section is a behind-the-scenes video of the company's VISION-S vehicle shot with the Airpeak in Austria: "The drone, equipped with the α7S III full-frame mirrorless single lens camera, unleashes all constraints and barriers for creators to push the boundaries of visual expression with dynamic shooting."
"There are very few concrete details about the new drone system right now," notes The Verge, "although Sony mentioned that it's been exploring using the drones to film landscape and city shots. It showcased the Airpeak working as a chase camera for footage of its VISION-S concept car from last CES."
"While Sony hasn't dabbled in drones before, its cameras are among the best in the industry — so much so that market leader DJI already offers camera mounts for Sony Alpha products. And the idea of Sony bringing that expertise to bear with bespoke drone-focused products is certainly an intriguing one."
TechCrunch adds, "while DJI owns a majority stake in Hasselblad, Sony's system looks like a proprietary, purpose-built design. That could certainly be a bonus from the standpoint of compatibility, though it doesn't seem like you'll be able to swap the Alpha out for different cameras."
Click here for more information on the speakers, panels and new products at CES 2021 (#CES2021).
Topics:
Aerial Photography
,
Airpeak
,
Alpha 7s
,
Alpha 7s III
,
Artificial Intelligence
,
Austria
,
Automotive
,
Camera
,
CES
,
CES 2021
,
Concept Car
,
CTA
,
DJI
,
Drone
,
Hasselblad
,
Kenichiro Yoshida
,
Photo
,
Photography
,
Production
,
Quadcopter
,
Robotics
,
Sony
,
Sony Alpha
,
UAV
,
Video
,
Videography
,
Vision-S