ATSC 3.0, the IP-based broadcast television standard created to improve viewing across future fixed and mobile devices, had a presence at CES 2021 in the form of new technologies and TV sets. Sony, LG and BitRouter were among the companies debuting NextGen TV tech at this year's show. Sony's Bravia XR line of LED and OLED sets is ATSC 3.0 compatible, as are LG's new 4K and 8K UHD TVs. BitRouter introduced a new Linux-based ATSC 3.0 receiver and the company's ZapperBox ATSC 3.0 set-top box, which will be available for licensing by other brands.
According to the international non-profit Advanced Television Systems Committee (comprised of 130-plus member organizations), the ATSC 3.0 standard has been designed to provide "higher audio and video quality, improved compression efficiency, robust transmission for reception on both fixed and mobile devices, and more accessibility, personalization and interactivity."
Adaptable for the future, ATSC 3.0 is "built on the same Internet Protocol backbone as today's popular streaming media platforms" and is "designed to bring together Over-the-Air with Over-the-Top content," while delivering "better video quality and immersive audio."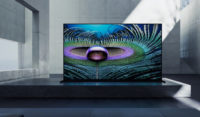 "Prior to CES 2021, there were more than 20 TV models that were ATSC 3.0 compatible and available on the market, primarily from LG, Samsung and Sony," reports TV Technology. "During the virtual conference, LG and Sony announced new TVs to add to those that are NextGen TV ready."
Sony revealed that all models in its Bravia XR line are ATSC 3.0 compatible, including an array of new LED and OLED sets (85-inch Master Series pictured above). While LG "did not provide specific details on what, or how many, models now feature NextGen TV support," the company "says that all of its new 2021 4K and 8K UHD TVs" (several pictured below) are compatible with the ATSC 3.0 standard.
In addition, LG has integrated SiliconDust's "HDHomeRun app into its new webOS 6.0 smart TV platform, interfacing with the ATSC 3.0 receiver in the HDHomeRun Connect gateway device," explains TV Technology. "The new OS is included in LG's 2021 OLED, QNED and Nanocell 4K and 8K TV models."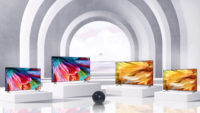 Meanwhile, San Diego-based BitRouter unveiled its new ATSC 3.0 receiver — the Linux-based 3pi — and announced that it is making its ZapperBox ATSC 3.0 set-top box available for licensing by other companies. The ZapperBox STB will launch in Q2 of this year.
During a panel at CES 2021, ATSC president Madeleine Noland predicted, "2021 promises to be another important year for NextGen TV consumers. Broadcasters successfully launched services in 23 markets last year and expect to launch another 20 in the coming months. In fact, we anticipate that NextGen TV will reach about 70 percent of U.S. household by the end of 2021."
According to the Consumer Technology Association's VP of research Steve Koenig, CTA research indicates that "NextGen TV's market share will reach roughly 2 percent of U.S. TV sets in 2021," reports Cord Cutters News. "By 2024, the standard is expected to hit around 31 percent of the U.S. TV market." However, "if manufacturers, broadcasters, and consumers come on board at a quicker pace, that surge could come even sooner."
Related:
ATSC 3.0 Backers Tout a Brighter Picture for NextGen TV at CES 2021, FierceVideo, 1/12/21
Broadcasters Eye ATSC 3.0 Rollout in 16 Additional Cities by End-of-Summer, Says Pearl TV, TV Technology, 1/7/21
CES 2021: BitRouter Releases ATSC 3.0 Receiver for Automotive, Distance Learning, TV Technology, 1/11/21