During CES 2021, Panasonic System Solutions Company of North America and Atlanta-based Illuminarium Experiences announced a partnership to use the former's laser projectors to create "massive entertainment spectacles." Panasonic will be the exclusive provider of native 4K projectors, 4K professional displays and 4K professional camera solutions for Illuminarium Experiences' custom-designed 360-degree immersive entertainment centers dubbed "Illuminariums." The spectacles are aimed to create "communal, connective entertainment."
VentureBeat reports that the experiential entertainment in its "reprogrammable immersive theaters surround visitors in a sensory space with 360 degrees of sight, sound, and scale" with the target of delivering "out-of-reach places, people, and experiences to make our planet a more inspired, empathetic, and connected place."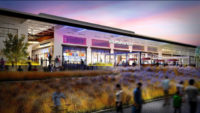 According to Panasonic Live Events group manager Joe Conover, "you can think of it as a living museum." "You can go on a virtual safari," he said. "Like a virtual reality experience, without the goggles."
The first three 3,000-square foot Illuminariums will open in Atlanta, Miami and Las Vegas. The company "expects to have 25 to 30 Illuminarium venues open in the world's megacities and mega tourism locations within the next five years."
Illuminarium Experiences' first spectacle is "Wild: The World's First Virtual Safari," which will open in Atlanta in mid-2021 and "showcase exotic animals in their natural habitats." The venue uses Panasonic PT-RQ50k laser projection technology, which offers 50,000 LM brightness, 4K resolution, and vivid color. Panasonic is also manufacturing a unique lens to enhance the immersive qualities of the experience: its engineers created an "ultra-short throw lens with minimal offset and loss of light" for the spectacles.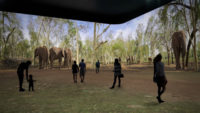 Illuminarium Experiences is headed by chief executive Alan Greenberg, and co-founded with Radical Media and the Rockwell Group. Next to the Atlanta venue, Illuminarium "is building a research and development and post-production center called The Illuminarium Lab … [to] serve as an ongoing center for research and development in immersive entertainment and interactive technologies, in collaboration with key Illuminarium technical partners, including Panasonic, Holoplot and Disguise."
Click here for more information on the speakers, panels and new products at CES 2021 (#CES2021).
Related:
Panasonic Puts Digital Transformation Tech Center Stage at CES 2021, TechRepublic, 1/11/21
Panasonic Named Official Technology Partner of Illuminarium Experiences, Press Release, 1/11/21