Samsung debuted MicroLED TVs during last week's virtual CES 2021, all offering 4K resolution, in fixed sizes of 110-inches, 99-inches and 88-inches, with the 110-inch version priced at $156,000. That compares to the launch at last year's CES of the 292-inch MicroLED TV, made up of individual modules and custom-installed. In comparison, Samsung's 98-inch 8K TV, which uses LCD-based QLED display, is priced at $60,000. MicroLED, the first new screen technology in 10 years, is closer to OLED than LCD and is said to feature improved contrast and response time.
CNET reports that MicroLED is "more akin to OLED than LCD … [with] perfect black levels and high brightness because it uses millions of tiny LEDs to create the image directly, for picture quality that's potentially better than OLED, the best currently available, without the possibility of burn-in." Achieving 4K required overcoming the challenge of making the technology small enough, and "the company promises even smaller MicroLED TVs in the future." It previously showed a 75-inch prototype in 2019.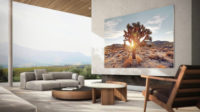 All three new MicroLED TVs offer MultiView, a feature that lets the user "connect multiple devices simultaneously and watch up to four things at once." The TV offers 5.1-channel sound and uses object tracking. Samsung also "removed the bezel around the screen entirely and touts a 99.99 percent screen-to-body ratio."
Engadget reports that Samsung's 110-inch MicroLED TV is "now up for pre-sale in Korea." Unlike the models shown at past CES events, the new versions are "prefabricated and can be installed like any traditional TV." The company noted that, "to be able to release this product, it had to develop a new surface mount technology and a new manufacturing process derived from its semiconductor business," which will open a door to even smaller MicroLED displays going forward.
The Verge reports that MicroLED "shares many of OLED's best traits — without most of the associated drawbacks — and is widely viewed as the next big upgrade leap for the displays in our lives." It adds that the 110-inch MicroLED TV "will launch globally in the first quarter of 2021" but that Samsung hasn't yet revealed a price.
Samsung said that the set "expresses 100 percent of the DCI and Adobe RGB color gamut, and accurately delivers wide color gamut images taken with high-end DSLR cameras." It adds that, "MicroLED is inorganic and thus should have better long-term durability," without a threat of burn-in. Samsung did not answer a question as to whether the MicroLED sets include HDMI 2.1 or support for 120Hz 4K gaming.
Click here for more information on the speakers, panels and new products at CES 2021 (#CES2021).
Related:
Samsung MicroLED Opens a New Era of Breathtaking Picture Quality and Design, Press Release, 12/10/20
MicroLED Could Replace OLED as the Next Ultimate TV Tech. Here's How It Works, CNET, 1/19/21
Topics:
4K
,
8K
,
Adobe RGB
,
Camera
,
CES
,
CES 2020
,
CES 2021
,
CTA
,
DCI
,
DSLR
,
Gaming
,
HDMI 2.1
,
Korea
,
LCD
,
LED
,
MicroLED
,
Modular
,
MultiView
,
Object Tracking
,
OLED
,
Prototype
,
QLED
,
Samsung Electronics
,
Semiconductor
,
South Korea
,
Surround Sound
,
Television
,
Wide Color Gamut