Sony first teased its Spatial Reality Display at last October's CES Unveiled Conference. Experts have alternately described the experience as taking 3D to the next level, virtual reality without the headset and, simply, mind-blowing. In essence it relies on Sony's Eye-Sensing Light Field Display (ELFD) technology to create an experience somewhere between virtual reality and next-gen 3D. The Spatial Reality Display was named a CES 2021 Innovation Awards Honoree. A shipping product, the display's suggested retail price is $4,999.99.
BGR reports that, "this game-changing display provides a complex glasses-free 3D experience that tracks your eyes and head movements, adapting the image in real-time to account for your perspective." It adds that, "the goal, in part, is to mimic the experience of looking at a real object in the physical world — as you move your vantage point, different parts of the object become visible, light reflects differently, shadows move, and so on."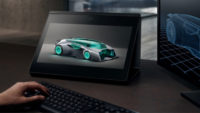 Grit Daily reports that, according to Sony, "the display reproduces spatial images in three dimensions as if they were real," enabling viewers to see 3D images without glasses or headsets. Sony Electronics North America president and chief operating officer Mike Fasulo said that, "the Spatial Reality Display … allows users to advance to an entirely new medium and experience for designers and creators everywhere."
To run the display, Sony recommends "a modern Intel Core i7 CPU or a Nvidia RTX 2070 Super GPU." The display is aimed at industrial use cases, and companies that are using it include Volkswagen, for design, ideation and training, and Sony Pictures Entertainment for unspecified tasks while filming "Ghostbusters: Afterlife."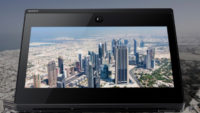 Sony first introduced its Eye-Sensing Light Field Display, which drives the SR Display, at CES 2020. "This technology consists of a 15.6-inch 4K LCD screen; its high-speed vision sensor tracks eye movement, as well as one's position as they move around the display," notes Grit Daily." "The Eye-Sensing Light Field Display also uses a micro-optical lens that lays over the LCD screen, which divides it so both eyes can create a stereoscopic image."
In its press release, Sony states that the SR Display "enables creators in many industries — from transportation, healthcare and education, to film, computer graphics (CG), and visual effects (VFX) — to bring ideas to life in stunning 3D displays."
Click here for more information on the speakers, panels and new products at CES 2021 (#CES2021).
Topics:
3D
,
4K
,
CES
,
CES 2021
,
CES Innovation Awards
,
Computer Graphics
,
CTA
,
ELFD
,
Ghostbusters Afterlife
,
Glasses-Free 3D
,
Intel Core i7
,
LCD
,
Mike Fasulo
,
Nvidia RTX 2070
,
Sony
,
Sony Electronics
,
Sony Pictures Entertainment
,
Spatial Reality Display
,
Stereoscopic
,
Virtual Reality
,
Vision Sensor
,
Visual Effects
,
Volkswagen