Adrian Pennington forwarded us news that British television producer Atlantic Productions is developing virtual reality narrative content, including documentary, CG and drama pilots for Facebook's Oculus Rift and Sony's Project Morpheus. Atlantic Productions is the company behind noted nature documentaries such as "Galapagos," "Kingdom of Plants" and the BAFTA-winning "Flying Monsters 3D." Atlantic hopes to bundle some of its VR content with the Oculus Rift when it becomes commercially available.
"Atlantic, which was an early innovator of stereoscopic 3D with productions, began VR development six months ago and has partnered with several virtual-reality firms to create content," writes Pennington for The Hollywood Reporter.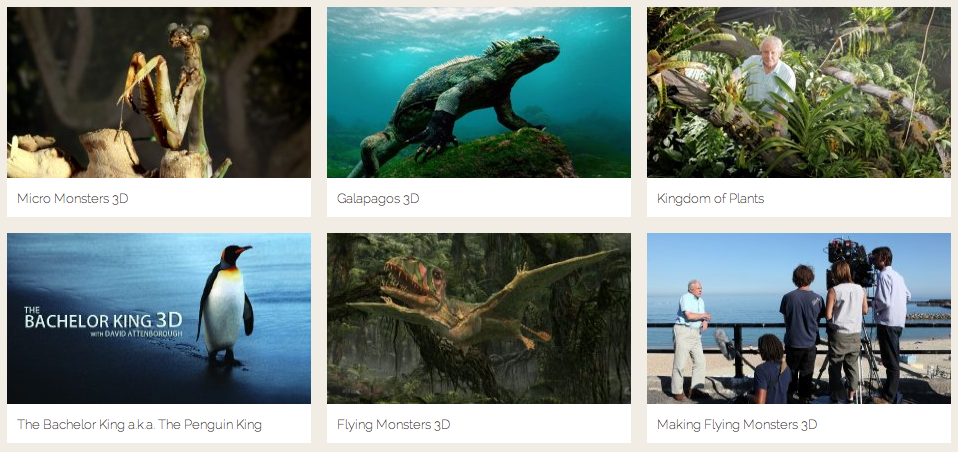 "VR will be a game-changer," said Anthony Geffen, CEO and creative director of Atlantic Productions. "The point of entry [for consumers] is cheaper than a mobile phone, and content distribution will be global. VR is known for gaming, but what it needs is quality narrative content, and that's where we come in."
"Material for one Oculus Rift project was shot by Atlantic at the same time but separately to its forthcoming 3D Ultra HD documentary 'Conquest of the Skies,'" notes Pennington. Both projects will feature Sir David Attenborough, who is no stranger to natural-history documentaries.
Atlantic is working on a variety of productions, including content created fully in CG and shooting with multiple GoPro cameras. The team is also getting ready to produce VR content in 4K. Each new step includes its own set of production and post-production challenges.
"There are a whole range of potential new shots that are not possible on conventional 16×9 TV screens," said Geffen. "Do you focus on 360-degrees or on immersive 3D or on a huge 180 degree shot? All these are now feasible. We are at a stage of imaging history where the rules are being rewritten."
"We had to create our own digital VR department, and this is now a full-time operation," he added. "We're in production and developing all our own processes from concept to shoot. I still believe in 3D, but a big problem was that the industry was very slow to give audiences a reason to understand why 3D is amazing. The content simply wasn't there. Virtual reality is totally immersive, and it could be a massive mainstream entertainment experience."
Topics:
3D
,
4K
,
Atlantic
,
Audio
,
BAFTA
,
CG
,
Content
,
Develop
,
Development
,
Doc
,
Documentary
,
Drama
,
Edit
,
Effects
,
efx
,
Facebook
,
Gaming
,
Geffen
,
GoPro
,
HD
,
Headset
,
Hollywood
,
Immersive
,
Morpheus
,
Oculus
,
Pennington
,
Pilot
,
Post
,
Producer
,
Production
,
Productions
,
Project
,
Reality
,
Reporter
,
Rift
,
Sony
,
Television
,
TV
,
UK
,
Ultra
,
Ultra HD
,
Video
,
Virtual
,
Wearable