During Facebook's F8 developer conference this week, an Oculus VR spokesperson said the company would likely release its Oculus Rift virtual reality headsets commercially next year. While there is no official word yet on a price tag or release date for the consumer version of Oculus Rift, the headset will require an ecosystem of games and entertainment. The Oculus Rift Development Kit 2 is presently on sale for $350, and is scheduled to begin shipping in July.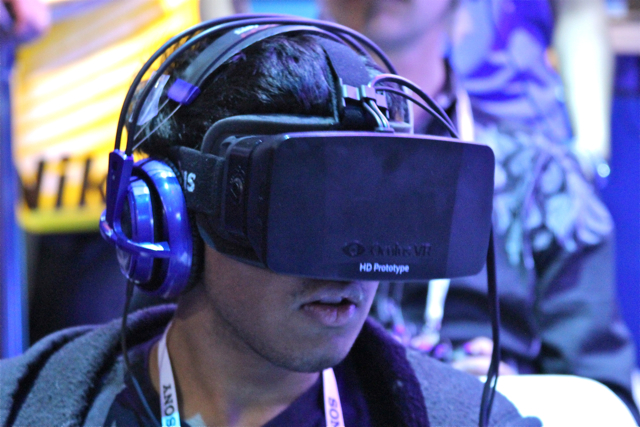 "More tantalizing still is what Oculus is hiding inside a secret room within its Irvine headquarters near Los Angeles," reports Business Insider. "We first heard about this from Andreessen Horowitz partner Chris Dixon, an investor in Oculus VR, who says that the version of Oculus Rift inside the 'special room' is more powerful and impressive than even the existing Crystal Cove and DK2 versions that outsiders have been allowed to play with."
Dixon claims that "Crystal Cove is 50 percent of what they are running in L.A.," and the new version more closely approximates reality. "He believes Facebook CEO Mark Zuckerberg bought the company after being ushered into the room," notes the article.
The Oculus rep told BI that the photorealistic experience is so real that users who are sensitive to motion sickness will not feel it.
Dixon believes that once the headset is commercially available, it will also be used for training exercises. "There will be a million in the U.S. military, police, and fire services," he said. "Anything to do with training."
Topics:
California
,
Conference
,
Consumer
,
Cove
,
Crystal
,
Demo
,
Develop
,
Developer
,
Development
,
Dixon
,
DK2
,
Entertainment
,
F8
,
Facebook
,
Fire
,
Game
,
Gamer
,
Gaming
,
Headset
,
Horowitz
,
Irvine
,
LA
,
Los Angeles
,
Military
,
Motion
,
Oculus
,
Play
,
Police
,
Price
,
Realistic
,
Reality
,
Release
,
Rift
,
Sale
,
SDK
,
Secret
,
Sickness
,
Social
,
Training
,
Virtual
,
Wearable
,
Zuckerberg