YouTube just upgraded its TV application to be easier to use on actual television sets, a response to the growing popularity of cord cutting, smart TVs and streaming media players. The company's latest app will feature a redesigned look and has organized its categories to better reflect how people use YouTube on bigger screen devices in the living room. More specifically, consumers who watch YouTube videos on TV screens rather than mobile devices or desktops, tend to browse for content.
According to TechCrunch, YouTube states that, "over half of 18 to 49-year olds in the U.S. have watched YouTube on their TV," proof of the app's success in drawing in streaming viewers in a space dominated by Netflix, Amazon, Hulu and HBO. The company also reports that, "the time spent watching YouTube in the living room is increasing — having more than doubled in 2015."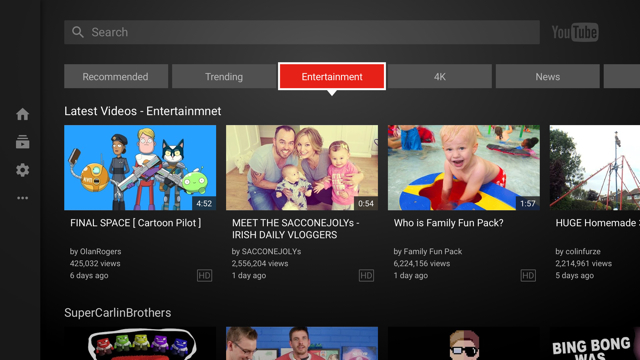 The new app is currently debuting on all TV platforms in the U.S., except for Apple TV. It will roll out to other countries in the future.
Although those on desktop or mobile devices usually click on a shared link or a search, those watching at home browse, but usually with an eye towards a specific type of content, "including travel, news, sports, fitness videos, TV shows, gaming, comedy, and more," while children turn to cartoons "and other family friendly shows."
The new app features categories on the top of the screen, as opposed to the old app that listed them in a side menu.
With the new app, the user will "see high-level categories like 'Recommended,' 'Trending,' 'Entertainment,' 'News,' and more." A click on each category will reveal sub-categories with lists of "more specific video content in that genre." YouTube also states that there are "new sections for 4K content and live streams."
But TechCrunch notes that the "new app still seems to focus more on the shorter-form content that YouTube is best known for, rather than using this makeover to promote its original content to viewers." YouTube's own shows and movies are the kind of videos that "could compel viewers to convert to becoming YouTube Red subscribers."
Topics:
4K
,
Amazon
,
App
,
Apple TV
,
Browse
,
Cable TV
,
Cord Cutting
,
HBO
,
Hulu
,
Live Streaming
,
Menu
,
Mobile
,
Movies
,
Navigation
,
Netflix
,
News
,
Original Content
,
Search
,
Smart TVs
,
Smartphones
,
Streaming
,
Subscription
,
Tablets
,
Television
,
TV Shows
,
User Interface
,
Video
,
YouTube
,
YouTube Red