Third quarter reports indicate a greater reduction in the number of pay TV customers as compared to the previous year. The decline in pay TV customers suggest that a growing number of consumers are taking to "cord cutting" when it comes to media consumption. With a number of viable streaming services such as Netflix, Hulu and Amazon currently available, customers are choosing to abandon traditional pay TV to avoid paying the steep cost of cable and satellite packages.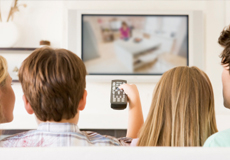 According to Wall Street research firm MoffettNathanson LLC, pay TV took a heavy hit, losing approximately 179,000 customers for the quarter. "More homes and businesses have dropped pay TV service in the first three quarters of this year than in the whole of last year," reports The Wall Street Journal.
Cablevision Systems reported a loss of 56,000 video customers. In anticipation of a growing cord cutting population, some pay TV players are looking to pursue alternative ways to attract customers.
"Ultimately cord cutting and going to over the top is something we do believe is going to happen and we are preparing ourselves for it," says James Dolan, CEO of Cablevision.
WSJ notes that satellite TV providers, historically known for high performing third quarters, reported losing approximately 40,000 subscribers. DirecTV explains that it has also experienced a higher volume of complaints from price sensitive customers. DirecTV claims that the loss of these "discount seeking" customers has been a part of its strategy all along, instead focusing on the "higher value" customers willing to pay the premium price.
AT&T and Verizon FiOS have both experienced stagnant growth in the pay TV business. However, cable companies have managed to retain some customers through lighter bundle packages. Companies such as DirecTV and Dish Network are preparing to offer streaming services of their own to reach an audience that does not already subscribe to pay TV.
For the time being, efforts to combat the subscription streaming services have been conservative. The question is whether these pay TV companies can sustain themselves over time, as the market for streaming services continues to get hotter. With recent announcements from HBO, Sony and CBS, the pay TV industry may have a face-off with streaming services sooner than expected.
Topics:
Amazon
,
AT&T
,
Broadcast TV
,
Cable
,
Cable Bundle
,
Cablevision
,
CBS
,
Comcast
,
Cord Cutter
,
DirecTV
,
Dish Network
,
HBO
,
HBO GO
,
Hulu
,
James Dolan
,
MoffettNathanson
,
Netflix
,
OTT
,
Pay TV
,
Satellite TV
,
Sony
,
Streaming
,
Subscriber
,
Subscription
,
Television
,
Verizon
,
Verizon FiOS
,
Video