Netflix launched its Post Technology Alliance logo program last week, with plans to certify post-production products and systems from manufacturers and vendors that meet the streaming service's technical and content delivery specs. "The Post Technology Alliance will build a more seamless experience from production through post-production," said Chris Fetner, Netflix director of post partnerships and integrations, noting that certified vendors are "committed to better interoperability and faster innovation cycles." Adobe, Avid, Blackmagic Design, Canon, Panasonic, RED Digital Cinema and Sony are among those with products already certified.
"The Netflix Post Technology Alliance is a program for manufacturers of products that generate or manage any kind of sound data, image data, or metadata from production through post," explains Netflix on the Post Technology Alliance site. "Products bearing this logo are evaluated and tested to ensure they meet our technical and workflow requirements, and the manufacturers of participating products are committed to providing the highest level of innovation, support and customer service."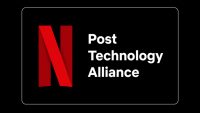 Additional certified vendors include Arri, Colorfront, Fraunhofer IIS, FilmLight, Marquise Technologies, MTI Film, Ownzones and Rohde & Schwarz.
The logo program "certifies that a product has been vetted for delivery to Netflix and that the manufacturer is committed to ongoing support of the streamer's technology," reports Variety. It "covers four different product categories: cameras; color grading; editorial (video editors); and IMF (Interoperable Master Format) and media encoding."
In the future, Netflix plans "to expand the categories to include sound production, dubbing, and other post-production functions."
"Netflix also maintains the Netflix Post Partner Program (NP3), which collaborates with post-production partners to ensure quality control, focusing on areas including language dubbing, audio descriptive services, and master quality control," notes Variety. "The company also has the Netflix Preferred Fulfillment Partner (NPFP) program that bestows a seal of approval on media fulfillment companies."
Topics:
Adobe
,
ARRI
,
Audio
,
Avid
,
Blackmagic Design
,
Canon
,
Chris Fetner
,
Color Grading
,
Colorfront
,
Dubbing
,
Encoding
,
FilmLight
,
Fraunhofer IIS
,
IMF
,
Marquise Technologies
,
Metadata
,
Movie
,
MTI Film
,
Netflix
,
NP3
,
NPFP
,
Ownzones
,
Panasonic
,
Post Production
,
Post Technology Alliance
,
RED Digital Cinema
,
Rohde & Schwarz
,
Sony
,
Streaming
,
TV Show
,
Video