TaTaTu is a new blockchain-based platform that integrates entertainment viewing with social media. The brainchild of producer Andrea Iervolino, TaTaTu rewards viewers for watching content including movies, TV shows, sports, and gaming — and adds rewards when their friends also watch. The first platform, without social media, will be released in three weeks; the complete version will debut Q1 2019. AMBI Media Group will be amongst the first content providers (Iervolino is AMBI Media's co-founder and CEO). Additional partnerships will be announced soon.
"We are looking to announce a couple of very big partnerships with some of the world's highest-quality content providers," said Iervolino. "Unfortunately … we can't reveal who that is, as the deals have not been finalized yet." VentureBeat reports that, "AMBI is well known for its portfolio of critical hits, commercial blockbusters, and cult favorites."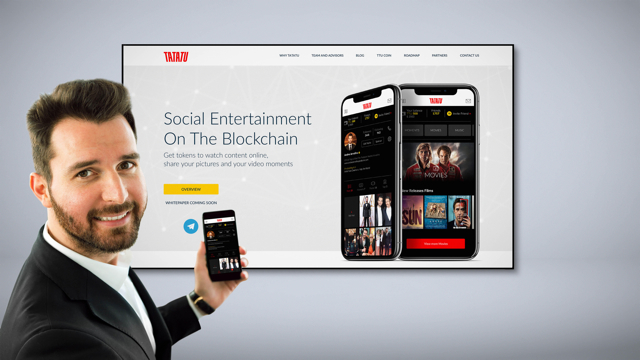 TaTaTu rewards content consumption with digital tokens; "blockchain lets TaTaTu record each transaction in an open distributed ledger, which ensures users and content providers get rewarded." The platform also includes a blockchain-based digital rights management (DRM) system, which provides "an accurate record" for "all talent, distributors, and studios."
"We need the blockchain to create a unique token that is universal and can be used as a rewarding system for our community of users," explained Iervolino. "We want to create an ecosystem based on trust and fairness embodied by the principle of the blockchain community."
"The DRM is built on the blockchain to ensure film rights do not get lost," he continued. "There are many examples of studios being bought, going bust, and rights getting lost."
To build TaTaTu, the company has put together "a team of over 250 developers, as well as adding a dedicated blockchain team." Content offerings will begin with movies and videos "but it will also expand to providing music, sports, and games on demand." Iervolino stressed that TaTaTu does not compete with Netflix or Amazon "as they are subscription-based, nor with platforms like Hulu, which focus solely on advertising."
"Our business model is unique, as we reward users — focusing on the relationship between the advertiser and the content viewer," he said. "It is something completely new in the market and that we believe is the future.‌"
"The company said the TaTaTu platform allows users to invite their friends via their social media (Facebook, Instagram, Snapchat, WhatsApp, etc.) to join, watch and create videos that can be shared with friends, chat with other members, and share the content they like," notes Variety.
"Our goal is to reach one billion subscribers worldwide in six years to become the first premium advertising platform in the world," said Iervolino (read more in the press release). "Eventually, by developing and nurturing a community of dedicated and engaged users, we want to become the largest Internet-based social media entertainment studio in the world."
Topics:
Advertising
,
Amazon
,
AMBI Media Group
,
Andrea Iervolino
,
Blockchain
,
Digital Rights Management
,
Digital Tokens
,
DRM
,
Facebook
,
Gaming
,
Hollywood
,
Hulu
,
Instagram
,
Movies
,
Music
,
Netflix
,
Rewards
,
Snapchat
,
Social Media
,
Sports
,
Studios
,
Subscription
,
TaTaTu
,
Television
,
Tokens
,
TV Shows
,
VOD
,
WhatsApp