Yesterday we reported that NBC Sports had announced Sunday's matchup between the Patriots and Seahawks delivered a 49.7 overnight rating, the highest in Super Bowl history. Numbers released later in the day by Nielsen indicate that the broadcast set a new U.S. television record with 114.4 million viewers, up 2.2 million from last year's game. The event also set live streaming, social media, and halftime show records. Katy Perry drew 118.5 million viewers, about 3 million more than last year's performance by Bruno Mars.
"Viewership peaked with 120.8 million viewers from 9:45-10 p.m. ET when Super Bowl MVP Tom Brady threw two touchdown passes to put the Patriots on top," reports Variety. "NBC Sports Live Extra's live stream of Super Bowl XLIX to desktops and tablets set Super Bowl records for average viewers per minute (800,000), concurrent users (1.3 million) and total minutes (213 million), according to Adobe Analytics."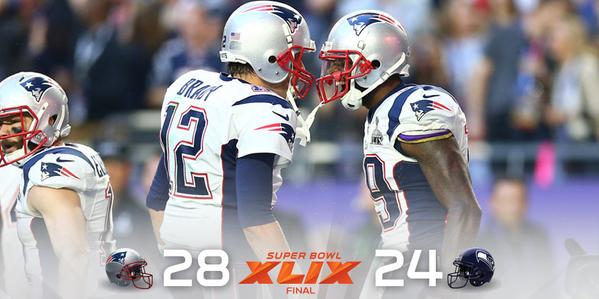 Following NBC's post-game coverage, the network aired a special episode of "The Blacklist," which generated series-high ratings, drawing 26.5 million viewers. The episode marks the most-watched scripted NBC broadcast since the 2004 finale of "Friends."
We reported yesterday that the evening marked the most-tweeted in Super Bowl history, with more than 28.4 million tweets referencing the game, Katy Perry's halftime show and the commercials. Last year's Super Bowl generated 24.9 million tweets, while the World Cup beat both events with 32.1 million.
For a complete breakdown of the most tweeted moments (topped by Malcolm Butler's interception of a Russell Wilson pass with 20 seconds remaining), the Twitter Blog offers details.
According to Google, more people viewed Super Bowl videos on YouTube than ever before. YouTube offered its first-ever halftime show this year and showcased the game's commercials on its AdBlitz 2015 site. Google says viewers spent nearly 4 million hours watching ads and teaser vids on YouTube, an increase from last year's 2.2 million hours.
Facebook, meanwhile, offered Super Bowl fans a real-time second screen experience this year featuring a dedicated page and live feed for news, sharing, photos, videos, and posts from players.
"Last year, more than 50 million unique users joined the conversation on Facebook," notes TechCrunch. "This year, more than 65 million participated. In total, users shared 265 million posts, comments and likes, which soared during the game's final moments to more than 1.3 million unique 'People Per Minute' who were posting, commenting, and liking content related to the Super Bowl, says Facebook."
Related News:
A Mere 112 Million? The Super Bowl's Audience is Tough to Gauge, The New York Times, 1/31/15
Televised Football Is Looking More Like a Video Game – In Subtle Ways, The Atlantic, 1/31/15
Super Bowl Commercials Go for Heart, Not Just Funny Bone and Jugular, The New York Times, 2/1/15
'Madden 15' Perfectly Predicted the Super Bowl, Yahoo! News, 2/1/15
How Smartphones, Oreos, and Hashtags Have Changed Super Bowl Ads Forever, Digital Trends, 2/2/15
Topics:
Adobe Analytics
,
Advertising
,
Broadcast
,
Bruno Mars
,
Commercial
,
Facebook
,
Football
,
Google
,
Katy Perry
,
Live TV
,
Mobile
,
NBC
,
NBC Sports
,
New England Patriots
,
NFL
,
Nielsen
,
Seattle Seahawks
,
Second Screen
,
Smartphone
,
Social Media
,
Streaming
,
Super Bowl
,
Tablet
,
Television
,
The Blacklist
,
Tom Brady
,
Tweet
,
Twitter
,
Video
,
YouTube