DirecTV is increasing its rates in 2014 due to the rising costs of television programming. In addition to programming costs, sports broadcasting prices have risen, while DirecTV subscriptions have fallen. The pay TV company is considering more focused, over-the-top options, but not a broad video-on-demand service. However, some are questioning claims of rising programming costs and suggest there are actually increases in premium channel subscribers.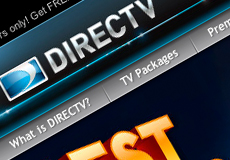 DirecTV, the largest satcaster in the U.S., is forced to raise prices next year due to increasing programming costs, according to the company's CEO, Michael White. DirecTV raised its rates on average of 4.5 percent last February and the new rate will not be as high, but "while it might be not as much, it is still going to be meaningful."
The cause for DirecTV's rate increase is the continued rise in TV programming costs, said White at the Goldman Sachs' Communacopia conference Wednesday in New York. Retransmission-consent costs are a particular sting; DirecTV's payments to TV broadcasters rose 50 percent this year and 600 percent from 2010.
"In the most recent quarter, DirecTV's total monthly churn was 1.53 percent, unchanged from the second quarter of 2012," reports Variety. "But the company lost a net 84,000 subscribers in the quarter ended June 30, only the second time in DirecTV's history that its subscriber base shrank."
Sports is still a major factor of general TV cost increases, and the Pac-12 networks would not allow DirecTV to offer channels in specific markets, says White. But he is hopeful that the company can renew the $4 billion agreement with the NFL for the Sunday Ticket package.
The NFL said that it is approaching other companies regarding Sunday Ticket broadcasting, such as Google, who met with league officials on a possible distribution agreement.
Time Warner would be open to a cable provided broadband agreement such as with HBO, said Jeff Bewkes, the company CEO, also at the conference. However, he does not support offering a premium channel to consumers that do not deal with pay TV providers.
The number of views paying for premium channels is rising, while distributors are not selling low-priced packages, notes Bewkes. He also questions claims of pay TV providers' pressures of rising programming costs. "If you look at their earnings, you know that they have a healthy business," he suggested.
"Bewkes doubts that they'll face serious competition from companies such as Intel and Sony that are exploring the possibility of offering a cable-like programming package via broadband," reports Deadline Hollywood. "Unlike many programmers, he doesn't want distributors to pay an additional fee just for the digital rights."
Topics:
Bewkes
,
Broadband
,
Broadcast
,
Cable
,
Channel
,
Cost
,
DirecTV
,
Goldman
,
Google
,
HBO
,
HBO GO
,
Hulu
,
Internet
,
NFL
,
NYC
,
OTT
,
Pay
,
Pay TV
,
Premium
,
Programming
,
Rates
,
Retrans
,
Revenue
,
Sachs
,
Satcaster
,
Satellite
,
Sports
,
Streaming
,
Subscribe
,
Subscription
,
Television
,
Time Warner
,
TV
,
VOD
,
White