The U.S. Supreme Court on Friday agreed to hear an appeal filed by broadcasters against the Aereo online TV service. Disney's ABC, CBS Broadcasting, Comcast's NBCUniversal and 21st Century Fox are among those who argue that Barry Diller-backed Aereo violates copyrights by using tiny antennas to access broadcast signals without paying fees. Media companies appealed a decision by the 2nd U.S. Circuit Court of Appeals in April that denied their request to shutter Aereo while legal issues are being addressed.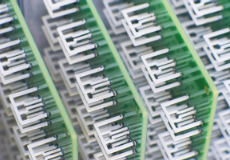 "Broadcasters say a federal appeals court ruling favoring Aereo created a blueprint that might let cable and satellite providers avoid paying 'retransmission' fees to carry programming," reports Bloomberg. "With those fees estimated to exceed $4 billion this year, some broadcast companies say they may convert to cable channels if Aereo isn't shut down."
"In a relatively unusual step, Aereo urged the high court to hear the case even though it won in the lower court because it would like a definitive answer on the issue," explains Reuters, noting that a ruling is expected by the end of June.
Broadcasters content that Aereo threatens their ability to control subscription fees and generate ad revenue. The National Football League, Major League Baseball and media companies including Metro-Goldwyn-Mayer are among those filing court papers in support of the broadcasters.
"This has never been about stifling new video distribution technologies, but has always been about stopping a copyright violator who redistributes television programming without permission or compensation," Fox, Tribune Co., Univision Communications Inc., the Public Broadcasting Service and WNET said in an e-mailed statement.
"Enshrined in the Constitution is the concept that content creators deserve to be protected from product theft," added Gordon Smith, president of the National Association of Broadcasters. "We look forward to the resolution of this case."
Aereo charges a low monthly fee to watch live or recorded broadcast TV channels on PCs or mobile devices. The service launched in the New York area in March 2012 and has since expanded to about 10 cities, with plans for further expansion. The company does not believe its business model is illegal.
"We believe that consumers have a right to use an antenna to access over-the-air television and to make personal recordings of those broadcasts," said Aereo CEO Chet Kanojia in a statement.
Topics:
ABC
,
Ad
,
Advertising
,
Aereo
,
Antenna
,
Appeal
,
Bloomberg
,
Broadcast
,
Business
,
Cable
,
CBS
,
Cloud
,
Comcast
,
Copyright
,
Court
,
Disney
,
Distribution
,
DVR
,
Fees
,
FOX
,
Internet
,
Kanojia
,
Law
,
Legal
,
Licensing
,
Live
,
MGM
,
MLB
,
Mobile
,
Model
,
NAB
,
NBC
,
NFL
,
Online
,
PBS
,
PC
,
Record
,
Retrans
,
Retransmission
,
Reuters
,
Revenue
,
Satellite
,
Signal
,
Smartphone
,
Smith
,
Tablet
,
Television
,
Tribune
,
TV
,
Univision
,
Video
,
Violate
,
WNET