Meta Platforms unveiled its anticipated mixed reality headset yesterday at Meta Connect. The $1,500 Quest Pro, which CEO Mark Zuckerberg introduced as "the first in our new line of advanced headsets," becomes the first full-color AR/VR device to hit the U.S. market on October 25. Although Meta is positioning the Quest Pro as a productivity device, the thrust was that app makers will be encouraged to develop for it. Meta also announced that NBCUniversal content and Microsoft Office, Windows, Teams and Xbox Cloud Gaming are coming to Meta Quest headsets.
As a productivity device, it is cheaper than Microsoft's $3,500 Hololens, which is an AR headset. "If you ignore the price, the just announced Meta Quest Pro might be the new best VR headset" says PC Gamer, whose "Best Of" list is currently topped by the Quest 2.
Quest 2 games and other content is compatible with the Pro. "It takes what people love about Quest 2 and adds a bunch of new technologies to help you do more in the metaverse," Zuckerberg said during his keynote, appearing on video and also as his new Horizon Worlds avatar.
The Meta Quest Pro, which Zuckerberg has been teasing using the code name Project Cambria, offers several improvements over the preceding Quest 2: "most strikingly, it has outward-facing cameras that capture a sort of 3D live stream of the physical environment around a wearer, enabling mixed reality novelties like the ability to hang a virtual painting on a real-world wall or have a virtual ball bounce off a real table," Reuters reports.
The Quest 2 only offers grayscale AR, called "passthrough." Quest Pro's AR resolution is four times that of the Quest 2, according to PC Gamer, which says it includes "facial expression tracking ('smiles, eye-brow raises, winks and all'), and new self-tracking Touch Pro Controllers (meaning you can put them behind your back without the headset losing track of them)." The controllers (which also work with Quest 2) will be available later this year, for $300.
The Quest Pro uses "patented pancake lens" technology that the company says produces a 40 percent thinner "optical stack" than the Quest 2, with 37 percent more pixels per inch, concentrated at the center, resulting in sharper images and easier-to-read text.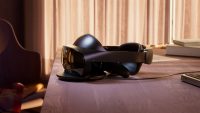 Tom's Guide took it for a test drive, prompting them to write that "the future of the metaverse is here." At 10.3 x 7.1 x 5.0 and 1.59 pounds, the Tom's reviewer describes the Quest Pro as "lightweight and comfortable," adding that "it almost felt as if I wasn't wearing a headset at all. That in itself is a huge victory."
Zuckerberg was joined by Meta CTO Andrew Bosworth, who said "about one in three apps in the Quest store are making revenue in the millions," while "33 titles have made more than $10 million in gross revenue, and that's up from 22 in February, and the number of apps making more than $5 million has doubled since last year."
Starting in 2023, Meta and NBCUniversal will team to co-create content for Meta's Horizon Worlds metaverse that will also be experienced at Universal Studios Theme Parks. "The Office," Universal Monsters and Universal Studios Horror Nights, as well as IP from DreamWorks and Blumhouse are among the content that will be developed as part of this multiyear deal.
Meta also says "the Peacock app is coming to Quest." Variety writes that a deal with Sony Interactive Entertainment is bringing content including "Marvel's Iron Man VR" to Meta Quest 2 this fall.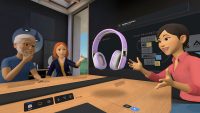 Meta also announced a partnership with Microsoft "to bring its suite of productivity software and Xbox Cloud Gaming service to the Meta Quest headset," reports Variety, adding that Meta will "integrate Microsoft Teams and Zoom conferencing into its VR workspaces, to let users participate using their avatars." Accenture, Adobe and Autodesk were also mentioned as metaverse collaborators. Next year Quest for Business, currently in beta, will officially launch.
As the Quest platform grows, "we're focused on making it even easier to develop for, and philosophically we're focused on making the ecosystem more open," Zuckerberg said, emphasizing SDK additions and updates The Presence Platform is getting a Movement SDK for real-time avatar expressions. Meta is syncing avatars across all apps, including for video chat on Messenger and WhatsApp. Meta avatars will now participate in Zoom meetings.
The Meta Avatars SDK is also extending to Android and iOS on Unity, and Zuckerberg announced it "will soon support Unreal Engine and virtual reality too."
Related:
Mark Zuckerberg on the Quest Pro, Building the Metaverse, and More, The Verge, 10/11/22
The Meta Quest Pro Is a Cutting-Edge Headset Looking for an Audience, The Verge, 10/11/22
Meta's Facebook Takes Aim at Workers' PCs with New VR Headset, The Wall Street Journal, 10/11/22
Skepticism, Confusion, Frustration: Inside Mark Zuckerberg's Metaverse Struggles, The New York Times, 10/9/22
Meta Employees Aren't Thrilled About Mark Zuckerberg's Metaverse Chase, Mashable, 10/10/22
Meta's Flagship Metaverse App Is Too Buggy and Employees Are Barely Using It, The Verge, 10/6/22
Topics:
Accenture
,
Adobe
,
Andrew Bosworth
,
Augmented Reality
,
Autodesk
,
Blumhouse
,
DreamWorks
,
HoloLens
,
Horizon Worlds
,
Iron Man
,
Mark Zuckerberg
,
Messenger
,
Meta Quest 2
,
Meta Quest Pro
,
Metaverse
,
Microsoft Office
,
Mixed Reality
,
NBCUniversal
,
Pancake Lens
,
Peacock
,
Project Cambria
,
Sony
,
The Office
,
Unity
,
Universal Studios
,
Unreal Engine
,
Virtual Reality
,
WhatsApp
,
Xbox Cloud Gaming
,
Zoom