Google is releasing what it says are "the world's first laptops built for cloud gaming." The Alphabet company is partnering with Acer, Asus and Lenovo to release three models featuring minimum 120Hz refresh rates and Wi-Fi 6 or 6E capability, among other features that make them a good fit for cloud-based interactivity. The company is also bundling free three-month trials to Nvidia's GeForce NOW, Amazon Luna and Microsoft Xbox Cloud Gaming with the Chromebooks, and game-ready accessories certified as "Works with Chromebook" are being sold by Acer, Corsair, HyperX, Lenovo and SteelSeries.
The first three models — the Acer Chromebook 516 GE, the ASUS Chromebook Vibe CX55 Flip and the Ideapad Gaming Chromebook from Lenovo — are available this month, at prices ranging from $399 to $799 "to make these gaming Chromebooks appeal to a wider audience," writes TechCrunch.
Other game-optimized features include high-resolution displays, immersive audio and RGB keyboards with "anti-ghosting," which TechCrunch describes as "a feature that registers all the key presses accurately even when you press multiple keys at once." Depending on the model, these Chromebooks "use Intel's processor, from Core i3 to Core i7."
Noting that "the whole point of cloud gaming is that you don't need superpowered hardware to enjoy high-quality games," Engadget observes that "many existing Chromebooks can run cloud gaming services just fine," but concludes the aggregation of cloud-centric features make these new entries "quite a bit different than your average Chromebook," offering a detailed breakdown of the components of each model.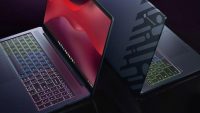 That Google's new laptops for cloud gaming are debuting barely a week after the company announced it is killing Stadia, its cloud-based game service, was remarked on.
During a press briefing, Google "mentioned that they would have loved to have Stadia on the list" of software partners, TechCrunch writes, noting that "on these gaming Chromebooks, you can run GeForce NOW's highest performance tier RTX 3080," which supports features like ray tracing.
As to whether gaming Chromebooks have a shot, Engadget says the concept represents "a pretty major shift," concluding "there aren't a lot of Chromebooks with large, high-resolution screens with high refresh rates" and "generally speaking, it sounds like you get a lot of bang for your buck with these models."
Related:
Introducing the World's First Laptops Built for Cloud Gaming, Google Blog, 10/11/22
Topics:
Acer
,
Alphabet
,
Amazon Luna
,
Asus
,
Chromebook
,
Cloud Gaming
,
Core i3
,
Core i7
,
Corsair
,
GeForce NOW
,
GeForce NOW RTX 3080
,
Google
,
HyperX
,
Immersive Audio
,
Intel
,
Laptop
,
Lenovo
,
Microsoft
,
Nvidia
,
Stadia
,
SteelSeries
,
Wi-Fi 6
,
Wi-Fi 6E
,
Xbox Cloud Gaming
,
Xbox Game Pass