Google is shutting down its Stadia video-game streaming service in what many say is a response to leaner times. The cloud-based subscription service is going dark January 18, three years after it launched. It delivers games directly to compatible smart TVs, computers and Android phones, and is accessible to incompatible devices, such as iOS, via web browsers. While Stadia "was built on a strong technology foundation, it hasn't gained the traction with users that we expected so we've made the difficult decision to begin winding down," Stadia VP and general manager Phil Harrison wrote in a blog post.
Stadia was conceived as a cost-effective alternative to game consoles like Microsoft's Xbox and Sony's PlayStation. Harrison blogged that Google will provide refunds for "all Stadia hardware purchases made through the Google Store, and all game and add-on content purchases made through the Stadia store."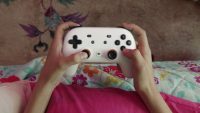 The underlying technology platform that powers Stadia "has been proven at scale and transcends gaming," Harrison said. "We see clear opportunities to apply this technology across other parts of Google like YouTube, Google Play, and our augmented reality efforts — as well as make it available to our industry partners, which aligns with where we see the future of gaming headed."
"The company had already begun selling Stadia's underlying streaming technology to other businesses, and said it expected that many Stadia team members would be 'carrying this work forward in other parts of the company,'" The New York Times writes, noting that "in February 2021, Google shut down Stadia's in-house game studio, which had been formed to create new titles, prompting fears that the entire service might one day disappear."
Cloud gaming hasn't really caught on because it "still has too much friction," suggests The Verge. "Can my Internet connection run the game? Is the game I want available on the platform of my choice? Do I have to buy it separately, or is it part of a subscription?"
Having failed to take off "when it arguably had the prime opportunity to — when we were all stuck at home early in the pandemic and couldn't find PS5s," The Verge questions whether any cloud-first service can ever put a dent in a business dominated by console kingpins.