Meta Platforms is joining forces with Qualcomm to develop a next-generation extended reality chipset for its Meta Quest 2 and other headsets. The multi-year agreement, announced at the IFA 2022 consumer electronics show in Berlin, will focus on virtual reality and augmented reality applications. While the deal leverages Qualcomm's Snapdragon XR platforms, engineering and product teams from each company will collaborate on "core technologies to accelerate a fully realized metaverse," Qualcomm president and CEO Cristiano Amon announced from the stage at Friday's IFA keynote in which he was joined remotely by Meta CEO Mark Zuckerberg.
The companies have worked together on VR innovations for the past seven years, most recently with Meta Quest 2. "This agreement solidifies the mutual commitment to deliver multiple generations of premium devices and experiences powered by custom VR platforms in the years to come," Qualcomm said in a statement that emphasized tailoring chips to Meta's needs.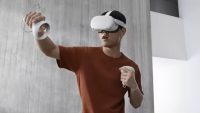 Zuckerberg confirmed last month that Meta will release a new headset in October that offers a mixed-reality experience, using cameras to simulate AR within the VR form factor.
"In the smartphone field, companies ranging from Apple to Samsung have designed their own custom processors to differentiate from competitors and create better products than they might have using off-the-shelf chips," says CNBC, opining that "a focus on custom chips by Meta makes sense as it looks to differentiate its headsets and possibly create unique experiences for users."
"Unlike mobile phones, building virtual reality brings novel, multi-dimensional challenges in spatial computing, cost, and form factor," Zuckerberg said in a statement. "These chipsets will help us keep pushing virtual reality to its limits and deliver awesome experiences."
Reuters notes "the chipsets produced through the collaboration will not be exclusive to Meta, but will be optimized specifically for Quest's system specifications." Meta spokesperson Tyler Yee told the Reuters the Qualcomm agreement is specific to VR devices. Yee said Meta will continue to develop chipsets, and that some devices may use a combination of its own and off-the-shelf silicon.
The Verge found it significant that "Meta's upcoming headsets, which reportedly include a high-end headset codenamed Cambria and, later, new versions of its cheaper Quest headset, won't run on completely customized Meta-designed silicon. This is despite competing companies like Apple, Amazon, and Google making product decisions around custom chip designs like M2, Graviton3, and Tensor — and the fact that Meta's had a team dedicated to doing the same since 2018."
The Verge writes that in April it was reported Meta was "hitting roadblocks" in an effort to create its own chips for its second generation of Ray-Ban Stories smart glasses, and opted to instead go with Qualcomm silicon. The roadblocks could have been financial, as Zuckerberg said during his Q2 earnings call that the company is slowing some of its ambitious multi-year projects in an effort to improve its balance sheet.
Topics:
Amazon
,
Apple
,
Augmented Reality
,
Berlin
,
Cristiano Amon
,
Extended Reality
,
Google
,
Graviton3
,
Headsets
,
IFA
,
M2 Chip
,
Mark Zuckerberg
,
Meta Platforms
,
Meta Quest 2
,
Metaverse
,
Mobile
,
Qualcomm
,
Ray-Ban Stories
,
Samsung
,
Smart Glasses
,
Smartphone
,
Snapdragon XR
,
Tensor
,
Tyler Yee
,
Virtual Reality