Mark Zuckerberg has confirmed that Meta Platforms will in October debut the mixed reality headset the company has been developing under the codename Project Cambria. Appearing on Spotify's "The Joe Rogan Experience" podcast last week, Zuckerberg said the new headset will have outward facing cameras capable of porting the outside world into the VR experience. With improved facial tracking to transpose smiles and frowns and the ability to convey "actual eye contact" between avatars, Zuckerberg said the new device will enhance the experience of "social presence."
Although Zuckerberg did not provide a retail price nor mention the name of the headset, Variety reports "the new device will be called the 'Meta Quest Pro' and will cost more than $1,000."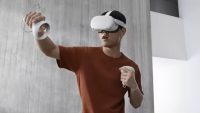 CNBC says the new "VR headset will cost at least $800, significantly more than its flagship Quest 2 VR headset, which costs $399 or $499 depending on the model. The company recently raised the price of that device, attributing it to rising shipping and production costs."
Zuckerberg told Rogan his passion for VR stems from a basic interest in "helping people connect," and imagining "what would be the ultimate expression of, basically, people using technology to feel present with each other. It's not phones, it's not computers." Zuckerberg believes it is virtual reality or augmented reality.
While VR technology has piggybacked on "decades of innovation in displays from TVs, laptops and phones," Zuckerberg said that "AR is a pretty different beast, because what you really want to get to is not a headset, but something that's like a normal-looking pair of glasses."
Zuckerberg told Rogan true AR glasses won't be conventional wireframes, because "you're going to have to fit a computer in there, speakers, a microphone and batteries, a projector and a display."
Zuckerberg said the display technology "we and a lot of other folks" favor for AR is waveguides, "which is completely different from screens. With a screen, you're looking at a thing, pixels on a screen. A waveguide is see-through, so you can see the world through it, and it displays holograms, and places them at different depths in the world."
Meta plans to ship such devices in three to five years. In the meantime, the October Quest will bridge the gap. Bypassing waveguide, in the context of VR, cameras capture the environment, translating in real time to stereo images inside the headset "and then you can overlay digital images on top of that. So you can see AR experiences start to get built, but in a VR form factor," Zuckerberg told Rogan.
As enhanced reality edges closer to everyday life, Apple appears to be gearing up to make its long awaited debut. Bloomberg reports recent trademark filings indicate the company may be laying claim to the names "Reality One," "Reality Pro" and "Reality Processor." Bloomberg notes that "though Apple itself didn't make the filings, they follow a pattern that the iPhone maker has used in the past — including relying on law firms that the company has previously enlisted to lock down brands."
Topics:
Apple
,
Augmented Reality
,
Avatars
,
Displays
,
Facial Tracking
,
Holograms
,
iPhone
,
Mark Zuckerberg
,
Meta Platforms
,
Meta Quest 2
,
Meta Quest Pro
,
Mixed Reality
,
Podcasts
,
Project Cambria
,
Reality One
,
Reality Pro
,
Spotify
,
The Joe Rogan Experience
,
Trademarks
,
Virtual Reality
,
VR Headsets
,
Waveguides