Since launching Apple Music on June 30, Apple reports 11 million users have signed up for a three-month trial to access 30 million songs. If they all become paying members, by October the Silicon Valley firm will have half the membership of leading music streamer, 10-year old Spotify. Apple is launching a comprehensive marketing campaign — with billboard, TV and radio ads — for the new streaming service. In the fall, it will roll out its Android version of Apple Music in beta.
In an interview with USA Today, Apple senior vice president of Internet software and services Eddy Cue reports the company is "thrilled with the numbers so far," and notes that two million trial members picked the family plan at $14.99 a month for up to six people; individual access costs $9.99 a month. USA Today notes that Digital Music News, among other outlets, reported that Apple's goal is 100 million subscribers.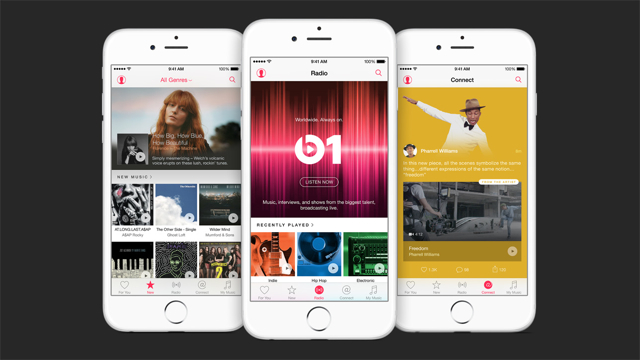 Apple Music, which differentiates itself from competitors by introducing emerging artists, has gotten favorable reviews from the tech-set, says USA Today, with the exception of some criticisms about functionality including duplicate playlists and mislabeled tracks. But the more challenging issue is millennials who typically do not pay for music.
Free, ad-supported streaming services include Pandora, Rhapsody and YouTube, but "consumers have shown they're willing to pay for music if it comes with upsides such as higher music fidelity (Tidal currently offers the best option on this front) to unique features (such as Apple Music's throwback to radio, Beats 1)," says USA Today.
Apple's App Store also hit a landmark in July with a record-breaking $1.7 billion in transactions. Cue credits "particular momentum in China," says USA Today, which adds that "the bulk of the $50 billion in revenue Apple posted at the end of the last quarter comes from hardware sales, namely iPhone and iPad." Music downloads via iTunes currently makes up two-thirds of Apple's music revenue.
Topics:
Ad-Free
,
Advertising
,
Android
,
Apple
,
Apple Music
,
Beats 1
,
China
,
Digital Music
,
Eddy Cue
,
iPad
,
iPhone
,
iTunes
,
Millennial
,
Mobile
,
Music
,
Pandora
,
Rhapsody
,
Smartphone
,
Song
,
Streaming
,
Streaming Music
,
Subscriber
,
Tablet
,
Tidal
,
Track
,
YouTube