Apple plans to include its Flipboard-like newsreader app, simply named News, in the upcoming iOS 9 this fall. First announced at WWDC in June with 18 publishers on board, News now touts more than 50 publishers. Conde Nast, Hearst and Vox Media are among the initial launch partners hoping that iPhone and iPad users will consume more of their content. While some publishers have expressed concerns about ad-blocking capabilities made possible by iOS 9, launch partners are pleased with Apple's advertising terms.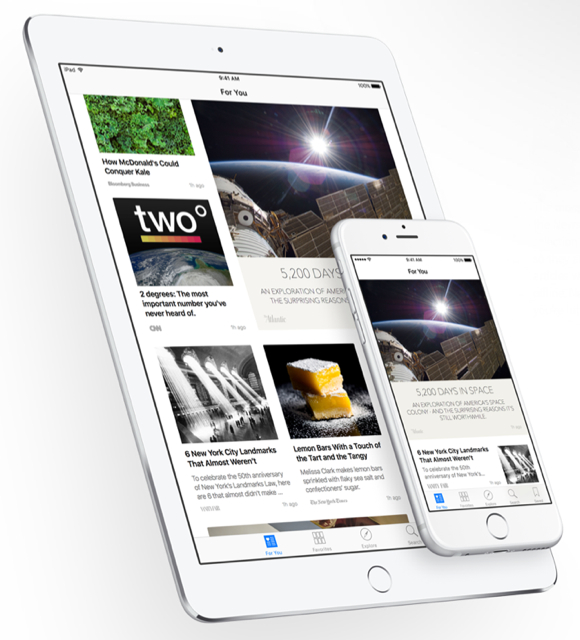 Publishers will keep all of the ad revenue for ads they sell on their own, and 70 percent of revenue for inventory that Apple sells.
"Publishers will also get credit from Web auditor comScore for the stories that users view, so they don't need to worry about Apple cannibalizing their audience numbers," notes Re/code.
Social media has become a popular resource for news sharing, and many newsreader apps have faded over time. Flipboard remains the exception, thanks in large part to its install deal with Samsung. Meanwhile, some publishers remain cautious about News in the wake of disappointing performances by apps such as Maps and Apple Music.
Of course, publishers are concerned that ad-blocking software made easy to use on Apple's mobile Safari Web browser will have a major impact on advertising. However, ads that appear on News are not expected to be blocked.
"A few years ago, the News model — where publishers put full stories on Apple's app and share some of the ad revenue those stories generate — might have been controversial," explains Re/code. "Now, the 'distributed' model for digital media is conventional wisdom — see: Facebook, Snapchat, YouTube and more — and the only question is how well News will work."
Topics:
Ad Blocking
,
Ad Revenue
,
Advertising
,
App
,
Apple
,
Apple Maps
,
Apple Music
,
Browser
,
Comscore
,
Conde Nast
,
Facebook
,
Flipboard
,
Hearst
,
iOS
,
iOS 9
,
iPad
,
iPhone
,
Mobile
,
News
,
Newsreader
,
Publishers
,
Safari
,
Samsung
,
Smartphones
,
Snapchat
,
Social Media
,
Tablets
,
Vox Media
,
WWDC
,
YouTube