The 2014 Winter Olympics begin tonight from Sochi with a wide range of options for viewers this time around. Television networks will broadcast a great deal of coverage over the next 18 days, and fans will have numerous options for streaming content via smartphones, tablets and PCs. In addition to the traditional TV broadcasts, a number of websites, apps and social media platforms including Facebook will provide viewers with extended coverage and event highlights.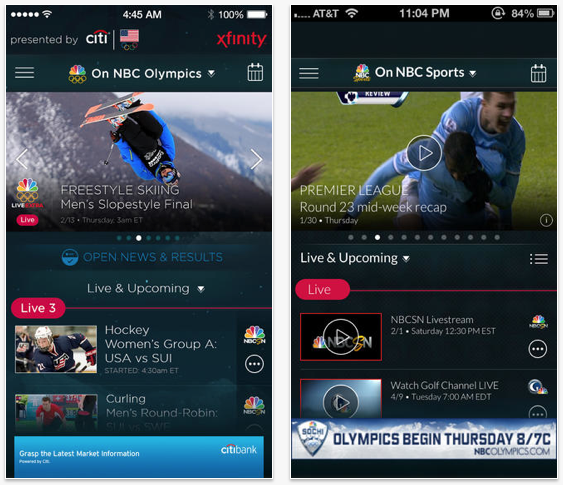 NBC plans to offer video highlights from every major competition on nbcolympics.com, while its official Facebook page will provide news and video updates. The network will also offer two apps: NBC Sports Live Extra (iPhone and Android) and NBC Olympic Highlights (Android only). However, users will need a cable subscription to use the apps.
NBC learned during the 2012 London Summer Games that delivery via multiple platforms did not erode primetime ratings as feared.
"We took a big chance," explains Jim Bell, executive producer for NBC's Sochi coverage. "But as it turned out, the research folks were 100 percent right. Not only did it not hurt our primetime rating, but by streaming all that content and putting more hours live on the cable networks, those people came to watch in bigger numbers and for longer hours in primetime than anybody else."
"The biggest shift is the sheer amount of coverage that will be available," reports Variety. "Besides the familiar primetime shows with [commentator Bob] Costas, NBC will offer streaming coverage of every event, and cable coverage will be expanded as well… However, the network draws the line at the Opening Ceremonies, which will not be streamed."
"NBC isn't doing all this as a public service," notes the article. "It paid $775 million for the rights to the Olympics, and it hopes to recoup some of those costs by selling commercials in the over-the-top coverage."
Other viewing options for U.S. sports fans involve accessing coverage from other countries.
The BBC plans to stream live content on its website and Canada's CBC will offer 12 feeds on its own site. Both networks will also offer apps. Viewers in the U.S. could potentially use a virtual private network (VPN) service to trick the servers in order to access these streams. The Tunnelbear app, for example, will allow users to alter an IP address that would make it possible to access streams in Canada and the U.K.
"Hola is another VPN service that's free and can bypass any Internet censorship," reports Business Insider. "Internet users have deployed this tool in accessing streaming sites like Hulu that could be blocked in certain countries."
BI also notes that live streaming TV services such as Aereo and competitor FilmOn could be used in select markets. However, it's worth mentioning that NBC could restrict some streams and the network will present a majority of its coverage through its cable channels. "Aereo focuses on the main broadcast networks," explains the article. "That means you'll only be able to stream whatever the regular NBC channel has on."
Related Stories:
Sochi Olympics: NBC Producer Has First Solo Stint Leading Team, The Wall Street Journal, 2/4/14
NBC Hopes Free Pass Will Help TV Everywhere, U-T San Diego, 2/3/14
Topics:
2014
,
Advertising
,
Aereo
,
Android
,
App
,
BBC
,
Bell
,
Broadcast
,
Cable
,
Canada
,
CBC
,
Commercials
,
Costas
,
Event
,
Facebook
,
FilmOn
,
Google
,
Highlights
,
Hola
,
Hulu
,
iOS
,
IP
,
iPhone
,
Live
,
London
,
Mobile
,
NBC
,
Network
,
Olympics
,
OTT
,
PC
,
Phone
,
Rights
,
Russia
,
Smartphone
,
Sochi
,
Social
,
Social Media
,
Sports
,
Stream
,
Streaming
,
Subscribe
,
Subscription
,
Summer
,
Tablet
,
Television
,
Tunnelbear
,
TV
,
UK
,
Variety
,
Video
,
VPN
,
Winter