Carolyn Giardina of The Hollywood Reporter forwarded us news that the Best Picture Oscar winner "Chicago" has been remastered in Dolby Vision to create a "Chicago: Diamond Edition" Blu-ray that will go on sale next week. The Blu-ray audio for Rob Marshall's 2002 film also features a new Dolby TrueHD 7.1 mix. Unveiled at CES, Dolby Vision is the company's tech specification for high luminance, wide color gamut and high dynamic range intended for HD or 4K resolution images.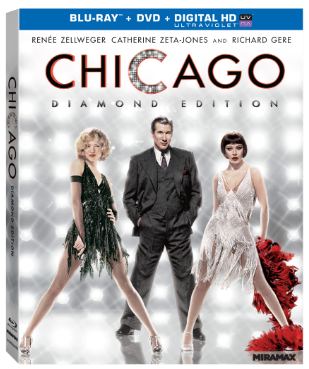 "While we'll have to wait for Dolby Vision TVs and content to get the full Dolby Vision experience at home, we were able to use the technology to dramatically improve what 'Chicago' looks like on today's TVs and today's Blu-ray Discs," explained Dolby in a statement. "It looks much better, but we do not consider it Dolby Vision content because Dolby Vision would require a Blu-ray Disc spec change and a Dolby Vision-enabled TV for playback — so this Blu-ray does not have Dolby Vision."
"Once the rest of the ecosystem is in place, it will be possible for Lionsgate to create a true Dolby Vision release [including OTT] if they choose to do that," added Dolby.
"Dolby is recommending its Dolby Vision blueprint for production through distribution," Carolyn writes in THR. "In the case of 'Chicago,' which was shot on film, the remastering process involved color grading to the Dolby Vision spec, using a developing plug-in for existing color grading systems (and a prototype Dolby professional reference monitor that supports the format)."
During CES, Dolby announced that Amazon Instant Video, Netflix, Vudu and Microsoft's Xbox Video would deliver TV shows and movies in Dolby Vision once there are compatible TVs and remastered content available.
Over the next year, the company plans to have 20-25 movies available in the format. It intends to develop a complete system for creating, encoding and delivering Dolby Vision, and then license the system to others.
"Technicolor is additionally developing its own high dynamic range imaging system, including a method for encoding high dynamic range (HDR) content for delivery to the home, mapping this spec to existing content, and postproducing HDR content," notes Carolyn.
According to the press release, special features for the Blu-ray Combo Pack (plus DVD and Digital HD UltraViolet) include:
"Chicago in the Spotlight"— A retrospective documentary with cast and crew (available on Blu-ray only).
Audio commentary with director Rob Marshall and screenwriter Bill Condon.
Deleted musical number "Class" performed by Catherine Zeta-Jones and Queen Latifah.
"From Stage to Screen: The History of Chicago" featurette.
Topics:
2014
,
4K
,
Amazon
,
Audio
,
BD
,
Blu-ray
,
CES
,
Chicago
,
Color Gamut
,
Diamond
,
Dolby
,
DVD
,
Dynamic
,
Edition
,
Encode
,
Film
,
Grading
,
HD
,
HDR
,
Hollywood
,
Home Video
,
Image
,
Imaging
,
Las Vegas
,
Lionsgate
,
Luminance
,
Marshall
,
Master
,
Microsoft
,
Miramax
,
Movie
,
Netflix
,
OTT
,
Program
,
Range
,
Remaster
,
Resolution
,
Series
,
Show
,
Spec
,
Studio
,
Technicolor
,
Television
,
TrueHD
,
TV
,
UHD
,
Ultra HD
,
UltraViolet
,
UV
,
Video
,
Vision
,
Vudu
,
Xbox