For the first time in more than six years, Comcast gained more video subscribers than it lost last quarter. The cable provider can attribute that growth to its new set-top boxes, which feature a searchable, cloud-based interface resembling that of a Roku, Apple TV or Google Chromecast. Time Warner Cable, which saw a decline in last quarter's numbers, plans to release its own set-top box in hopes of boosting its subscribers and preventing cable cutting by customers.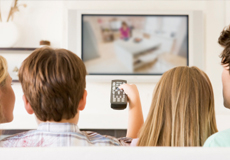 According to Quartz, the cable companies' moves to improve their set-top boxes is "hugely significant," noting that these changes to become more user-friendly "signals an acceptance of the reality of competition — and a desire to be part of the future of television."
Devices like Apple TV make it incredibly convenient — and inexpensive — for users to search for their favorite movies and buy content from the iTunes store, among other similar online stores. Apple is even rumored to soon be unveiling the newest version of Apple TV.
In a fight to stay relevant, Comcast's X1 set-top boxes can be controlled by smartphones and voice commands, and they include a digital video recorder. The cable company has made significant investments in the X1 and soon-to-be X2 versions, and it's converted into subscribers. Time Warner Cable plans to release its own box later this year.
"BTIG analyst Rich Greenfield describes Time Warner Cable's cloud based guide in an email as 'gen 1 but quite impressive,'" Quartz reports. But Barclays analyst Kannan Venkateshwar says the effort is "too little, too late" compared to Comcast.
"[Time Warner Cable] is potentially the only company in the space other than Comcast to have the scale to change the dialogue on what the cable product should look like in the future," Venkateshwar said. "Instead, the company has once again adopted an incremental plan which will likely be just enough to get it up to par in three years with where its peers like Comcast already are today."
Though innovation in Internet-enabled TVs will also likely have an impact on the lifespan of set-top boxes, Quartz stresses the significance of these efforts by the once all-powerful cable companies.
Topics:
Apple
,
Apple TV
,
Barclays
,
Cable
,
Chromecast
,
Cloud
,
Cloud-Based
,
Comcast
,
Content
,
Cord
,
Cord Cutting
,
Cutting
,
Device
,
Google
,
Google Play
,
Greenfield
,
Interface
,
Internet
,
iTunes
,
Movie
,
Play
,
Provider
,
Quartz
,
Roku
,
Search
,
STB
,
Store
,
Stream
,
Subscribe
,
Subscriber
,
Television
,
Time Warner
,
Trend
,
TV
,
TWC
,
Video
,
X1
,
X2