Video game companies are trying to change gaming's image and perceptions regarding who plays as part of a plan to convince Madison Avenue that games are a serious advertising vehicle. Some 700 ad execs attended the first annual IAB PlayFronts, April 5 in New York, to hear pitches by Meta, Twitch, Activision Blizzard, Unity, Riot and more. Meanwhile, companies including Comcast's NBCUniversal and HTC are working on technology to put advertising into cloud-based and streaming video games. Elefund and DIP Capital are among those investing in insertion technology that puts brands directly into the gameplay.
Alternatively, "advertisers can purchase playable ads and interstitials that pop up between levels of games directly from publishers such as Activision Blizzard's King, the maker of 'Candy Crush Saga,' and 'Words With Friends' owner Zynga," according to The Wall Street Journal.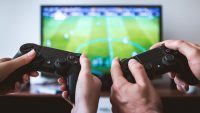 "They can also buy ads that let players unlock small in-game boosts, gifts or other extra content in exchange for watching, or create entire branded games of their own," notes WSJ, explaining that advertising heavyweights including Publicis and Dentsu added game divisions last year "to help marketers figure out exactly where they can fit into the video game landscape."
According to analytics firm Newzoo, advertiser interest in games has increased commensurate to the growth in worldwide video gameplay, which in 2021 was 2.96 billion playing at least one per six-month period (up from 2.03 billion in 2015). Nielsen data indicates "more than 80 percent of U.S. gamers are over 18 years old, and 55 percent are over the age of 35," writes WSJ.
Fast Company reports that Sony Interactive is "working on a plan to put ads into titles on its platform, borrowing heavily from the model that has been so successful in the mobile gaming world," with the goal of ads that are "integrated into the games, such as appearing on digital billboards in a sports stadium."
Deciding whether to allow in-game ads "will apparently be up to the developer, meaning you're less likely to see a promotion for Mountain Dew or Takis in big, AAA titles like 'Call of Duty' or 'God of War,'" Fast Company suggests, noting that "smaller, independent games — especially those that utilize the free-to-play model — could embrace the ads."
In addition, "Microsoft is investigating the world of in-game advertising, and could use it as a way of increasing access to its games streaming membership the Xbox Game Pass," reports The Drum.
Despite the big push, "advertisers still are not flocking to gaming in droves," writes WSJ, comparing in-game mobile advertising revenues of $5.49 billion in 2021 to U.S. advertiser spending on online video ads, which was $52.2 billion in 2021.
WSJ says some advertisers are wary of video game violence and the "unpredictability of some live, multiplayer environments," while technical obstacles include the cost of crafting in-game ads and the number of ad insertions a game can bear without disrupting the player experience, as well as measurement challenges.
The IAB plans to address that issue by updating its in-game advertising measurement guidelines, with a first draft expected this year.
Topics:
Activision Blizzard
,
Advertising
,
Call of Duty
,
Candy Crush Saga
,
Comcast
,
Dentsu
,
DIP Capital
,
Elefund
,
God of War
,
HTC
,
IAB
,
King
,
Meta Platforms
,
Microsoft
,
Mobile
,
Mountain Dew
,
NBCUniversal
,
Newzoo
,
Nielsen
,
PlayFronts
,
Publicis
,
Riot
,
Sony Interactive
,
Takis
,
Twitch
,
Unity
,
Words With Friends
,
Xbox Game Pass
,
Zynga