Irvine, California-based smart TV maker Vizio had its IPO on the New York Stock Exchange last week, offering 12.25 million shares priced at $21, valuing the company at about $3.9 billion. Vizio chairman and chief executive William Wang, who founded the company in 2002, is focused on the SmartCast streaming platform. Among smart TVs in North America, Vizio is second only to Samsung. Vizio's platform business grew four-fold from 2018 to 2020, to $147.2 million, with total revenue topping $2 billion in 2020.
Deadline reports that, "subscription streaming apps, free, ad-supported services and advertisers have flocked to SmartCast, which now has 12 million monthly active users," with total viewing time rising 173 percent from 2019 to 2020 to 12.3 billion hours. In Q4 2020, said Vizio, "average revenue per user on SmartCast was $12.99, up from $7.31 in the same period of 2019."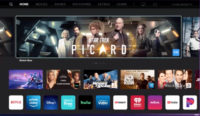 Chief revenue officer for Vizio's platform business Mike O'Donnell said that SmartCast is "comparable in some ways to Roku … in terms of being positioned as a nexus of streaming and an aggregator of ad dollars and viewing options."
But, he added, "unlike Roku, which is increasingly moving away from its hardware roots, Vizio sees its devices as a key complement to SmartCast." "There's this massive shift of eyeballs into the streaming world," he said. "We think having the integrated experience of hardware and software puts us in a position to continue to do streaming well. We're building on that to create more features and products for the future of television, where the television is the center of the connected home."
With a smart TV, viewing can be measured for "any video tuned in over the air, through pay-TV or streamed online," which is attractive to advertisers.
In fact, Vizio ran into trouble in 2017, paying $2.2 million to the Federal Trade Commission and New Jersey, "to settle complaints it had secretly collected viewer data and sold it to third parties." Since then, Vizio "updated its approach to data gathering, earning kudos for the improvements from watchdogs like Consumer Reports."
"Today, we have by far the most transparent consumer opt-in — not opt-out, but consumer opt-in — in the marketplace," said O'Donnell, who reported opt-in rates are in the 80 to 90 percent range.
Forbes reports that Vizio TVs feature 4K resolution screens at prices that "significantly undercut those of flagship sets from LG, Sony, and Samsung."  It competes with "external streaming devices and software platforms such as Roku, Amazon Fire, Google's Google TV/Android TV, and Apple TV." Via Vizio's SmartCast system, viewers can access Netflix, Disney+, Hulu, Amazon Prime Video, Apple TV+, NBCUniversal's Peacock, and AVOD services Tubi and Sony Crackle. Vizio also curates two ad-supported channels.
Vizio's subsidiary Inscape "uses anonymized audience data captured from actual set use to provide a wide range of viewer insights" and can be used for "dynamic ad insertion, even with linear channels operated by traditional media companies."
Plans for revenue going forward include "advertising on those streaming channels, AVOD apps, its home screen and packaging; data licensing through Inscape and ad insertion; transactional and premium VOD purchases; sale of subscriptions for the big streaming services; and even selling high-profile buttons on its remotes."
Topics:
4K
,
Advertising
,
Amazon
,
Amazon Fire
,
Android TV
,
Apple TV Plus
,
Apps
,
AVOD
,
California
,
Crackle
,
Disney Plus
,
FTC
,
Google TV
,
Hulu
,
Inscape
,
IPO
,
LG
,
Mike O'Donnell
,
NBCUniversal
,
Netflix
,
New Jersey
,
NYSE
,
Peacock
,
Roku
,
Samsung
,
Smart TV
,
SmartCast
,
Sony
,
Streaming
,
Tubi
,
Vizio
,
William Wang