Broadcasters and other media organizations are contemplating a move to an Ethernet-based facility for their live streams for a range of compelling reasons: flexibility, simpler cabling, better economies of scale and an easier move to Ultra HDTV. At an HPA Tech Retreat panel on "Professional Networked Media," Fox Network Engineering & Operations Vice President Thomas Edwards led a panel of broadcast executives working to make that a reality.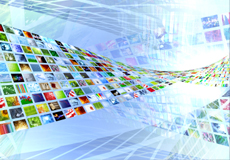 It's already a reality for the BBC, said Nicholas Pinks, Technology Transfer Manager for the British broadcaster's R&D team. "[BBC Director-General] Tony Hall has defined the future of BBC production as IP: BBC on mobile, on demand, online and on TV," said Pinks, who said that IP is flexible and enables sharing.
Pinks gave the example of covering a soccer game in 4K to show just how much broadcasters have to change their thinking about production going forward. "It's all huge pictures that look lovely and I want to tell the story in wide shots," he said. "But if I was to watch that same scene on mobile, I would want tight shots. I challenge any broadcaster to say they have two production teams, one for TV and one for mobile. We have to start thinking in a new way."
Data is central to that new way of thinking. "Cisco's revenues are larger than the entire broadcast industry," said Pinks. "We need to start playing the data game, start talking about data." A data-centric model will help broadcasters solve problems inherent with new challenges. "Broadcasters need to support more formats, more platforms, new types of content, more personalization and better interaction with audiences," he added.
The BBC changed its entire broadcast model in 2012. "We want to get a live experience into peoples' homes, so every score is live on every platform," he said. "And we want to do that for every game."
The move to data complicates the internal logistics of a broadcast plant. "In the past, we had PAL and NTSC, two simple formats that broadcast engineers knew," said Pinks. "It'll never get back to that. If we know there are a thousand formats, we have to think pragmatically about how to stream video and how to look at metadata streams."
To push its own efforts forward, at NAB 2013, BBC R&D (in concert with partners) unveiled Stagebox technology, which transforms linear control, audio and video signals from a camera into packet-based IP networks, thus making HD tapeless productions simpler and cheaper. Stagebox has been utilized in a real-world environment at the Glastonbury Festival.
"This is not a concept — we're doing a huge amount of production daily now," said Pinks. "With the Sony F55, it creates Raw 10-bit; AVC-I, H.264 and tracking events, and it can all go into my network fabric and become part of this great big flow."
Although BBC has had to go "beyond traditional SMPTE standards" to make this a reality, Pinks said the results have been positive. "We're seeing much less data and processing problems," he said. "It's robust and we're very happy with that."
Topics:
2014
,
4K
,
Alliance
,
BBC
,
Broadcast
,
Cable
,
California
,
Camera
,
Cisco
,
Connected
,
Data
,
Delivery
,
Develop
,
Edwards
,
Ethernet
,
F55
,
Facility
,
Format
,
FOX
,
hall
,
HD
,
Hollywood
,
HPA
,
Indian Wells
,
IP
,
Live
,
Metadata
,
Mobile
,
NAB
,
Network
,
NTSC
,
Online
,
PAL
,
Palm Springs
,
Pinks
,
Post
,
Production
,
R&D
,
Research
,
Retreat
,
Share
,
Sharing
,
SMPTE
,
Soccer
,
Sony
,
Sports
,
Stagebox
,
Stream
,
Streaming
,
Television
,
TV
,
UHD
,
Ultra HD
,
Video
,
VOD