If you were not at E3, the recent Electronic Entertainment Expo, you might think that the great expanse of the Los Angeles Convention Center was wall-to-wall virtual reality. Despite VR's headline domination, it was a different story on the floor where impressive visuals and sophisticated gameplay ignited the crowd. Even jaded game industry media could not contain their excitement. As IGN enthused after the Sony press conference, for instance, "That may be the best E3 press event ever." We divided our overview into two parts: the evolution of E3 and direction of the gaming industry, followed by a breakdown of this year's top products.
"More than any other E3, this year was about the gamer. E3 demonstrated both the remarkable transformation of entertainment taking place on all video game platforms — virtual reality, augmented reality, hardware, mobile and handheld — and awesome games," said Michael D. Gallagher, president and CEO of the Entertainment Software Association (ESA), owner and producer of E3.
"As a driving force for technological and entertainment trends across the globe, the video game industry clearly demonstrated how it is revolutionizing the way people consume, engage and interact with media," he noted.
Over 52,200 video game professionals, analysts, journalists and enthusiasts representing 109 countries attended E3 this year to visit some 300 exhibitors and see more than 1,600 products, according to the ESA.
As the video game business matures, E3 has firmed its role as the world's leading video game event. It has been important since its 1995 launch, but after it mushroomed in size and spectacle to be too big to be productive, it dramatically scaled back in 2007.
That year's Santa Monica hotel setting with a mere 5,000 attendees was devoid of the excitement that has helped propel video game revenue to what PwC projects will rise to $93.18 billion by 2019. That figure is only a little more than $10 billion less than PwC projections for filmed entertainment, which it predicts will rise to $104.62 billion in the same period.
This year, the show seemed to hit its stride along with game developers that have grown into the latest generation of console platforms, now a year and half into the market. For all the murmurs of cloud servers rendering the console irrelevant, evidence on the floor and at the media events suggested otherwise.
E3 is first and foremost a product showcase. Glimpse the future and innovations that will drive it at the Game Developers Conference (GDC) in March, but see the year ahead at the Electronic Entertainment Expo. E3 is a media event, but not confined to traditional media. About 5,000 of the attendees were accredited as enthusiasts respected for their influence.
As ESA reported, "With an astounding 6.3 million posts on Twitter alone, E3 broke records for social media numbers across all channels. Engagement on Instagram topped previous records with over 7.5 million likes on E3-related posts this month. Twitch, E3's official streaming partner, reported that more than one half million concurrent viewers watched the E3 press conferences. In addition, more than one million E3-related videos were posted to YouTube."
Check back tomorrow for Part 2 of this overview, highlighting the products showcased at this year's E3. And for more information on the direction of electronic gaming, visit ESA's "Essential Facts About the Computer and Video Game Industry" for 2015 (see sample chart below).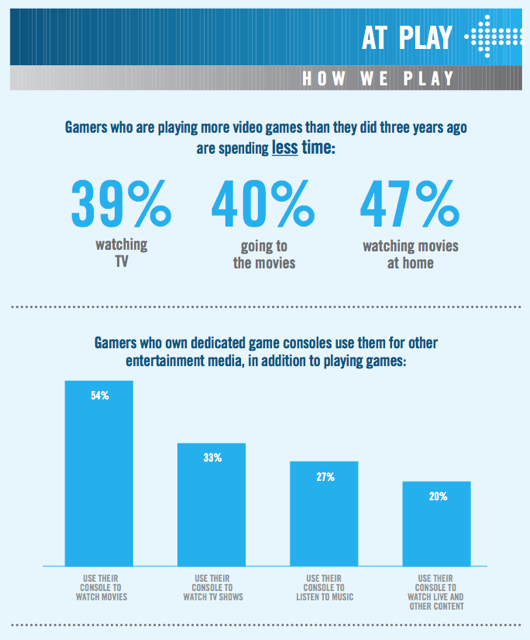 Topics:
AR
,
Augmented Reality
,
Cloud
,
E3
,
Electronic Entertainment Expo
,
ESA
,
Game Consoles
,
Game Developers Conference
,
Gamers
,
Gaming
,
GDC
,
Google
,
Handheld
,
Instagram
,
Los Angeles
,
Michael Gallagher
,
Mobile
,
Movies
,
PwC
,
Santa Monica
,
Social Media
,
Sony
,
Streaming
,
Twitch
,
Twitter
,
Video
,
Video Games
,
Virtual Reality
,
VR
,
YouTube