In Part 2 of our E3 overview, we look at the featured products and emergence of virtual reality. E3 operates with a familiar orchestration: Press events, lavish floor displays and private parties with big name bands. The Who, for instance, entertained guests of Electronic Arts. The layout of the exhibit floor gathers the platform players — Microsoft, Sony and Nintendo — in the Convention Center's West Hall and fills the South Hall with the major game developers. In a sign of where VR leader Oculus fits into the spectrum, its booth anchored a prominent corner of the platform-centric West Hall.
They call them press conferences, but E3 media events — especially Monday's Sony Playstation and Microsoft Xbox One sessions — are equally directed at industry insiders and the consumer public. The game industry came of age as a digital medium and its relationship with its audience reflects these digital roots and connections.
Microsoft dazzled with its "Minecraft" HoloLens demo, but that was less than 10 minutes. The remainder was all about games starting with backwards compatibility for Xbox 360 games on the Xbox One and announcements that included "Halo 5: Guardians," "Fallout 4," top-notch racing action with the latest "Forza," a revitalization of "Tomb Raider," a remastered "Gears of War: Ultimate Edition" (pictured below) that displays in HD at 1080p at 60fps, a new "Gears of War," and a number of indie game entries including "Tacoma," "Beyond Eyes," "Cuphead" and "Ashen."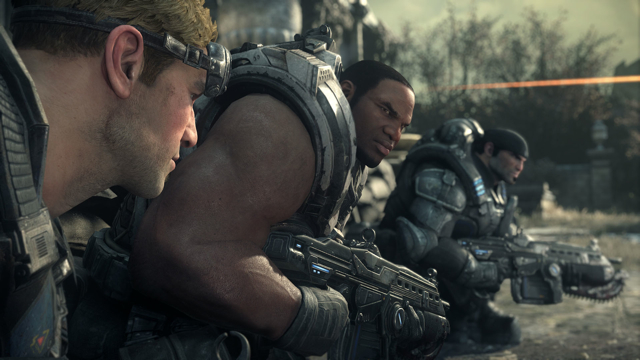 Microsoft also announced a partnership with Valve to offer VR experiences on Xbox One. This is in addition to the company's previously announced relationship with Oculus.
Sony opened its presentation with richly animated gameplay from a long awaited title, "The Last Guardian." It closed its show with gameplay from "Uncharted 4" (pictured below), which had almost all of the characteristics of a great action movie chase sequence, including snappy banter between the characters.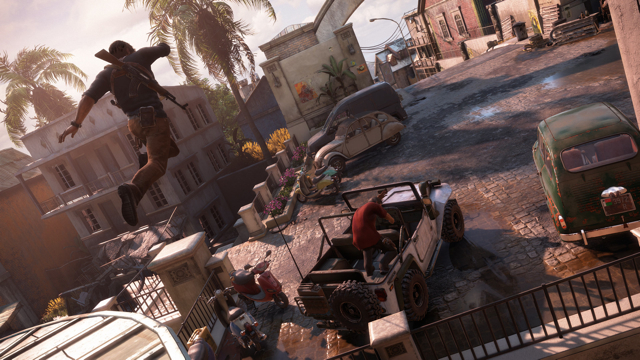 Among announcements between those bookends were Vue, the new cloud-based television service; "Horizon: Zero Dawn;" new game "No Man's Sky," that is as close to most earthlings will get to the wonders of deep space exploration (and has reportedly captured the interest of both Steven Spielberg and Elon Musk, according to a report in Kotaku); Disney Infinity, featuring news of a Star Wars addition; a cinematic trailer for "Batman: Arkham Knight;" "Call of Duty: Black Ops III;" a remake of "Final Fantasy" and a new game in that franchise.
The big news out of Nintendo was "Mario Maker," which basically gives players the developer toolkit to make Mario their own. The success of "Minecraft," now part of competitor Microsoft, and the timeless popularity of the Nintendo star suggest a new generation of engagement.
Even the most casual observer of the games on display in the massive South Hall developer booths can see that the level of graphic quality, in terms of animation, color, lighting, textures and effects continues to rise along with the intricacy and customization of the gameplay itself. With each passing year, it becomes increasingly interesting even for non-players to watch and become absorbed in the action. It is no wonder that popular YouTube channels feature gameplay. YouTube had a large presence on the South Hall floor and recently launched a gaming video hub to rival Twitch.
If the floor of the convention center is too noisy for business or booth meeting rooms too formal or intense, the sideshow in the lobby of the JW Marriott hotel filled from breakfast to nightcaps with a Who's Who of game business notables.
There was a certain energy that seemed to permeate the E3 experience this year. Few industries swap operating platforms in quite the way it happens in games. That characteristic introduces some peaks and valleys as both customers and developers adopt, adjust and master. It can be viewed as the price of innovation.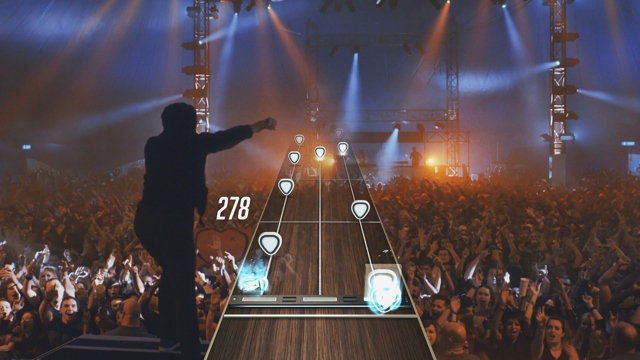 Backstage in the Activision booth, E3 badge-holders prepared to live a rock 'n roll fantasy. Through a curtain of smoke, they took stage positions under bright lights, strapped on redesigned instruments and transformed into Guitar Heroes. Ten years since the breakout success of the original "Guitar Hero" and following a five-year hiatus, the re-imagined "Guitar Hero Live" (pictured above) delivers a legitimate instrumental experience to players in their living rooms but the "Live" is just that — a live music video channel. Watch and enjoy or pick up your guitar and play, literally joining others, in synch, on the same song.
Jumping off the stage, demo players collected a grey t-shirt imprinted with what might just sum up E3 this year: "It's About To Get Real."
Click here to read Part 1 of this story.
Related:
E3 Expected to Focus on AR, VR, Online, Mobile and Wearables, ETCentric, 6/16/15
Microsoft: Mixed Reality is Future of Immersive Entertainment, ETCentric, 6/15
Nintendo Presentation at E3 Draws Strong Backlash from Fans, ETCentric, 6/18/15
EA E3 Round-Up 2015: Mirror's Edge, Star Wars: Battlefront and More, Wired, 6/15/15
Microsoft E3 2015 Round-Up: Halo 5, Rise of The Tomb Raider and More, Wired, 6/15/15
Microsoft E3 2015 Press Conference News Roundup, GameSpot, 6/15/15
Sony E3 2015 Press Conference News Roundup, GameSpot, 6/15/15
Sony E3 2015 Round-Up: Uncharted, No Man's Sky and More, Wired, 6/16/15
Sony's VR Push Hinges on the Game We Thought We'd Never Play, Wired, 6/15/15
30 Must-See PC Games Revealed at E3 2015, PCWorld, 6/16/15
E3 Rivals – Rock Band 4 vs. Guitar Hero Live, GameInformer, 6/18/15
The Future of Gaming is Here. And it's Literally Huge, The Washington Post, 6/19/15
Topics:
Activision
,
Animation
,
Batman
,
Call of Duty
,
Cloud
,
Disney Infinity
,
E3
,
Electronic Arts
,
Electronic Entertainment Expo
,
Elon Musk
,
Final Fantasy
,
Gamer
,
Gaming
,
Gears of War
,
Guitar Hero
,
Guitar Hero Live
,
Halo
,
HoloLens
,
Mario Maker
,
Microsoft
,
Minecraft
,
Nintendo
,
Oculus
,
PlayStation
,
Sony
,
Star Wars
,
Steven Spielberg
,
Television
,
The Last Guardian
,
Tomb Raider
,
Twitch
,
Uncharted
,
Valve
,
Vue
,
Xbox 360
,
Xbox One
,
YouTube