In addition to its Winter Olympics coverage across television, Web and mobile, NBC is also capturing some of the action from Sochi in 4K resolution. However, since the distribution infrastructure is not in place for Ultra HD broadcasts and only a small number of consumers own UHD TVs, the network is shooting limited 4K content for demonstration purposes only. NBCUniversal's parent Comcast has scheduled invitation-only viewing parties in Washington DC, San Francisco and Philadelphia.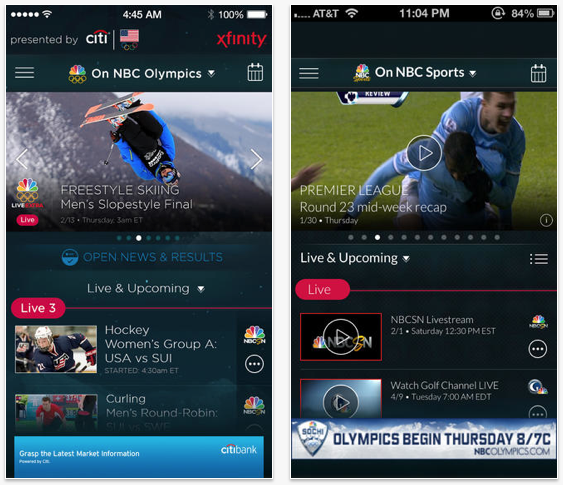 "Shooting in 4K is common in the biz," reports Variety. "Many TV productions use digital cinema cameras like the RED Epic and Sony F55 to capture footage in at least 4K and some post houses finish at 4K and then down-convert them to make the broadcast master. The missing links are on the distribution side, and in the living room."
We saw a wide range of 4K TVs at CES last month and reported on a number of content delivery deals. Comcast, for example, plans to offer on-demand 4K movies and TV shows via a new app for Xfinity TV later this year.
However, it's a bit too early for 4K commercial distribution since satellite links that transport live television do not support 4K, nor do set-top boxes in the field (Comcast plans to upgrade its next-gen X1 boxes for 4K this year).
Comcast held a 4K viewing party in Washington on Friday, with plans for similar events to be held in San Francisco on February 12 and Philadelphia on February 13. "Those are invite-only events for media, partners, elected officials, employees and other guests, who will be treated to time-delayed 4K content shown on Samsung UHD sets," notes Variety.
"To record 4K video in Sochi, NBC is working with Panasonic and the vendor's equipment along with the International Olympic Committee (IOC), Sochi Olympic Organizing Committee and Olympic Broadcasting Services (OBS)."
Topics:
4K
,
App
,
Broadcast
,
California
,
Camera
,
CES
,
Comcast
,
Consumer
,
DC
,
Delivery
,
Demo
,
Distribution
,
Electronics
,
Epic
,
F55
,
Film
,
HD
,
IOC
,
Las Vegas
,
Mobile
,
Movie
,
NBC
,
NBCU
,
NBCUniversal
,
Network
,
OBS
,
Olympics
,
Online
,
PA
,
Panasonic
,
Peacock
,
Philadelphia
,
Production
,
RED
,
Russia
,
Samsung
,
San Francisco
,
Satellite
,
Show
,
Sochi
,
Sony
,
STB
,
Television
,
TV
,
UHD
,
Ultra
,
Ultra HD
,
Variety
,
VOD
,
Washington
,
Web
,
Winter
,
X1
,
Xfinity