United Talent Agency and Rentrak, an entertainment data company, have teamed up to bring studio marketers a tool that tracks the hype on social media surrounding a specific film. With this data, marketers would be better armed to make the necessary tweaks to a marketing campaign that can help make a movie a hit. PreAct is the name of the new tool, and since its debut in January, the service has signed up entertainment giants such as Sony Pictures Entertainment and 20th Century Fox.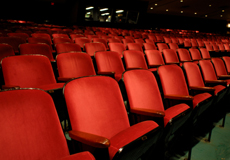 PreAct looks at a variety of social media to see how future viewers respond to different marketing techniques. The tool would pull information from Twitter, YouTube, Tumblr, Facebook, Instagram, movie blogs, and others, beginning almost a year before the theatrical release.
Factors such as the size of the online conversation, positive and negative posts, and different marketing strategies help determine the film's score, which people use to make comparisons between older and newer movies.
Marketers generally use the data from PreAct to help tweak existing marketing campaigns. The service provides detailed charts about how consumers are responding to promotional efforts, like a new ad that is aimed at men. Marketers are also able to see the difference between organic activity on social media and activity that was prompted by a company's promotion.
PreAct is a departure from the old system, in which Hollywood relied on consumer surveys. According to The New York Times, the new tool gives studios a chance to see how competing releases will be good for business.
"I love that all of the studios could be speaking in one language," said Dwight Caines, Sony's president of domestic marketing.
Topics:
20th Century Fox
,
Advertising
,
Blogs
,
Campaign
,
Data
,
Dwight Caines
,
Facebook
,
Film
,
Hollywood
,
Instagram
,
Marketers
,
Marketing
,
Movies
,
PreAct
,
Promotions
,
Rentrak
,
Score
,
Social Media
,
Sony Pictures
,
Studios
,
Theatrical Release
,
Tumblr
,
Twitter
,
United Talent Agency
,
UTA
,
Video
,
YouTube