ConnecTV's new app allows users to share short video clips of television content in a Vine-like fashion, without the need to access a camera phone or rewind via DVR. The Los Angeles-based social TV startup has created an alternative for recording highlights from sporting events, news bloopers and music videos. The app helps users select a highlight from live TV, and then edits the clip for sharing. ConnecTV also includes an option for searching for shows by network.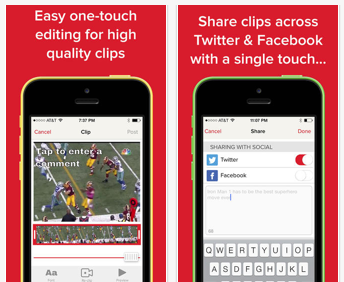 "ConnecTV constantly digests live feeds of 400 channels from all over the U.S., including all major national cable channels and broadcast stations from the top 55 local markets," reports GigaOM. "The result of this effort are clips that look much better than if users had recorded them with their cell phone cameras. And thanks to ConnecTV's content recognition, it's able to automatically tag each clip with network and show names as well as a whole bunch of other metadata."
The app lets users share the clips similar to how Vine videos are shared, with "infinite scroll and autoplay once a clip comes in focus," notes the post. "ConnecTV's videos are exactly six seconds long, which is no accident. Both Vine and ConnecTV have chosen this length to protect their users' creations as fair use and not infringe on anyone's copyright."
While some networks may not agree, ConnecTV CEO Ian Aaron says he hopes the app will actually help promote content. "Our whole goal is getting people excited about live TV again," he said.
If TV fans share highlights with friends via the app, Twitter, Facebook or email, then the approach could get other consumers excited about a specific series, performer or network.
ConnecTV is currently available for iPhones and iPads. For more information, visit the ConnecTV site or download the app from the iTunes Store.
Topics:
App
,
Broadcast
,
Cable
,
California
,
Camera
,
Channel
,
Clip
,
ConnecTV
,
Content
,
Copyright
,
DVR
,
Facebook
,
Fair Use
,
Highlight
,
iOS
,
iPad
,
iPhone
,
LA
,
Live
,
Los Angeles
,
Metadata
,
Mobile
,
Music
,
Network
,
News
,
Phone
,
Recognition
,
Record
,
Search
,
Share
,
Sharing
,
Smartphone
,
Social
,
Social Media
,
Social TV
,
Sports
,
Startup
,
Tag
,
Television
,
TV
,
Tweet
,
Twitter
,
Video
,
Vine