Japan's most popular YouTube star is Kizuna AI, a virtual teenager with thigh-high socks and a pink hair ribbon, brought to life by an off-screen actress. Millions of fans follow Kizuna, the brainchild of Activ8, a Tokyo-based company. According to Activ8 founder Takeshi Osaka, what sets such so-called virtual YouTubers (or VTubers) apart is that "you can believe they actually exist." To create Kizuna, Activ8 uses motion capture gear to create skits, music videos and game streams for its over four million subscribers.
Bloomberg reports that Kizuna debuted on YouTube in December 2016; the term VTuber was created to describe her. Activ8 uses motion capture that "allows Kizuna to interact with fans in real time at exhibitions, give interviews on live TV and perform in concerts."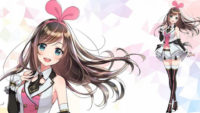 "The innovation here is in how they combine real-time 3D computer graphics, motion capture and video streaming sites like YouTube to create two-way interactions with audiences," said GREE senior vice president Eiji Araki, who leads a division specializing in VTubers.
The genesis of Kizuna took place as VR kits from Facebook's Oculus and HTC's Vive became available, which "turned out to be perfect animation rigs for VTuber aspirants on a budget" in concert with game engines and 3D models.
Japan, notes Bloomberg, "has a long history of user-generated content centered on anime, and performances by virtual idols like Hatsune Miku have drawn real-world crowds for more than a decade." Up until now, VTubers are unique to Japan, but "Activ8 already has ambitions to expand its VTuber portfolio beyond Japan."
According to market researcher User Local, Activ8 and a few other studios have created 9,000+ VTuber channels. It's also become big business, with Kizuna AI featured in ads for all kinds of products and even in the Japan National Tourism Organization's promo campaigns. At Gumi, an early investor in Activ8, founder Hironao Kunimitsu said, "there is no doubt that this will change the future of entertainment … [but] for this type of content to resonate outside of Japan, it will have to be adapted to local tastes and sensibilities."
Activ8 is testing that out in China, where it introduced a Chinese version of Kizuna AI, who now "has close to 820,000 followers on the country's Bilibili video-sharing service." Osaka's end game, however, is to bring VTubers to Hollywood. "I started this virtual entertainer business because I believe it can be done worldwide," he said. "Our goal is to become the next-generation Disney."
Topics:
3D Models
,
Activ8
,
Anime
,
Bilbili
,
China
,
Disney
,
Eiji Araki
,
Facebook
,
Gaming
,
GREE
,
Gumi
,
Hatsune Miku
,
Hironao Kunimitsu
,
Hollywood
,
HTC Vive
,
Japan
,
Kizuna AI
,
Live TV
,
Motion Capture
,
Music Videos
,
Oculus
,
Streaming
,
Takeshi Osaka
,
UGC
,
User Local
,
Video
,
Virtual Reality
,
VTubers
,
YouTube