Princeton University and University of Chicago researchers studied over 2,000 channels on streaming devices Amazon Fire TV and Roku — and found that 89 percent of the Fire TV channels and 69 percent of Roku channels included trackers. Those trackers collect data on viewing habits and preferences, device serial numbers and IDs, Wi-Fi network names and MAC (media access control) addresses, which are network interface identifiers. Some channels had 64+ different tracks. Users have no tools to examine the traffic or block ads.
Wired reports that KU Leuven digital privacy researcher Gunes Acar, formerly at Princeton, stated that though they knew Roku earned more from ads than selling hardware, the ubiquity of trackers was "still really surprising." The researchers — who said that Google Analytics and DoubleClick trackers are "extremely prevalent" in channels — "believe that streaming dongle data simply plugs into the larger user tracking and analysis for established ad networks."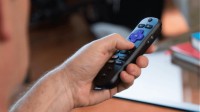 Surprisingly, Amazon's AdSystem was not "the most common tracker the researchers saw on Fire TV channels." The researchers also found that "Roku and Fire TV channels hoarded static identifiers, which make it virtually impossible for you to exercise choice about what data is associated with you and for how long."
At Oxford University's Center for Technology and Global Affairs, research associate Lukasz Olejnik deemed it "an overly invasive measure." Both Fire TV and Roku offer anti-tracking features, but "the wording of the settings indicates these aren't comprehensive protections."
Researchers found that, even with the anti-tracking turned on, "a lot of information still got passed along." Roku channels actually contacted "96 tracker domains when the setting was off, and 128 when it was on." Wired notes that, "not all ID collection is inherently ad-related, given that services need to differentiate users to serve content and offer customizations."
But, said Princeton researcher Hooman Mohajeri Moghaddam, who worked on the project, "the main things that we realized about these devices is that the countermeasures fall short of doing what they're supposed to do, because there are all of these other identifiers that exist on these devices even if one isn't being sent." "So even if you enable the privacy option there are still other IDs that can be used to uniquely ID the user or device," he added.
Northeastern University and Imperial College London researchers just found similar tracking features in smart TVs. "We know that the pure web and mobile ad ecosystems are based on tracking and profiling, and Internet of Things devices like smart TVs and streaming devices heavily depend on that larger structure," said Olejnik. "So, unfortunately, you need to expect that devices like these won't miraculously behave differently."
Related Video:
Your TV Is Spying on Everything You Watch, The Washington Post, 9/18/19
Topics:
Advertising
,
Amazon
,
Amazon AdSystem
,
Amazon Fire TV
,
DoubleClick
,
Fire TV
,
Google Analytics
,
Gunes Acar
,
Hooman Mohajeri Moghaddam
,
Imperial College London
,
Internet of Things
,
KU Leuven
,
Lukasz Olejnik
,
Northeastern University
,
Oxford University
,
Princeton
,
Roku
,
Smart TV
,
Streaming
,
Tracker
,
University of Chicago
,
Video
,
Wi-Fi