Instagram introduced new features yesterday designed to enable business owners to engage with customers via the photo-sharing app as long as their business is linked to an official Facebook Page. The new tools — developed after discussions with hundreds of businesses using the platform — include business profiles, analytics and the ability to launch sponsored posts directly from the Instagram app. According to Instagram, the set of tools "will be rolling out in the U.S., Australia and New Zealand in the coming months, and will be available in all regions globally by the end of the year."
"We've grown to 200,000 active advertisers on Instagram, and the vast majority of those are small to medium businesses," said James Quarles, global head of business and brand development at Instagram. "Fifty percent of people follow a business on Instagram, and sixty percent learn about products and services on Instagram."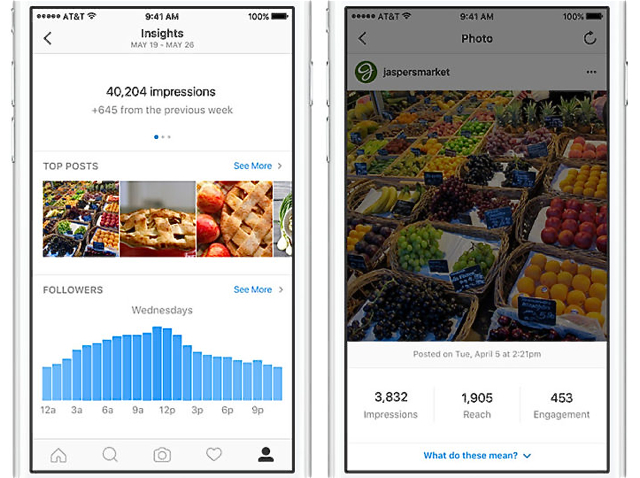 "With so many companies using Instagram, and many people on the platform interacting with them, there was a desire from our business community to do more," explains the Instagram for Business blog. "So we listened. And, after hundreds of interviews with businesses, three key needs became clear — stand out, get insights and find new customers."
Business profiles will enable Instagram users who already have a Facebook Page linked to their business to upgrade their existing account so they can use the expanded features. "This includes the added ability to let customers reach out to them via phone calls, emails or texts with a tap, and the profiles will include maps and directions to the business, when applicable," reports TechCrunch.
Insights will allow business users to track posts, impressions and engagement, in addition to demographic data such as gender, age and location.
Mobile ad creation will help business users convert well-performing posts into promotional vehicles. "Business owners will be able to promote a photo after it has been posted and turn it into an ad," notes Macworld. "They will be able to include a call-to-action button, select a target audience (or get Instagram's analytics to suggest an audience) and pick how long the photo should be promoted."
After testing commercial viability, Instagram will reportedly consider rolling out these new features to the wider community in the future.
Topics:
Advertising
,
Analytics
,
App
,
Australia
,
Brands
,
Business Profiles
,
Demographics
,
Email
,
Facebook
,
Facebook Page
,
Flickr
,
Images
,
Insights
,
Instagram
,
James Quarles
,
Maps
,
Marketing
,
Mobile
,
Mobile Ads
,
New Zealand
,
Photo Sharing
,
Photos
,
Promotions
,
Social Media
,
Sponsored Posts
,
Text Messaging
,
Tumblr
,
Twitter
,
United States
,
Video
,
Video Sharing