At the Computex trade show in Taiwan, San Diego-based Qualcomm introduced new chips for connected landlines, wireless Wi-Fi networks and wearables. To expand broadband communications network capacity, the company's Atheros business unveiled GigaDSL chips that let broadband operators transition away from VDSL technology to Gigabit access. The company is also debuting a three-way radio chip to be used for Wi-Fi wireless data networking as well as a new set of Snapdragon Wear chips for wearable devices.
VentureBeat reports that Atheros' new GigaDSL chips, the QCO5700 and QCM5720, provide up to 1 gigabit-per-second broadband over existing phone lines "while still maintaining interoperability with existing modems at carriers." The chips are targeted at current VDSL operators in South Korea and Japan, the former of which will host the 2018 Winter Olympics and the latter the 2020 Summer Olympics.
"We're in a never-ending pursuit of more network capacity," said Qualcomm executive Mark Grodzinsky, who notes customers include Sumitomo Electronic, NEC and Wave Electronics. "This is on both wired and wireless networks… GigaDSL will be a big help."
Also newly introduced is an 802.11ac tri-radio platform for home networks, to boost the home Wi-Fi capacity, which, says Grodzinsky, is being stretched to its limit. Combining two 5-gigahertz radios and one 2.4-gigahertz radio into a single product, the new chips bring "multi-user MIMO and Qualcomm Wi-Fi self-organizing networks into new mainstream home network routers."
The result will be able to "dedicate a radio for older legacy devices and alleviate congestion on the network for newer devices." Qualcomm's two new network tri-radio platforms can "boost a Wi-Fi network to 2.2 gigabit-per-second capacity or even 3.1 gigabits-per-second."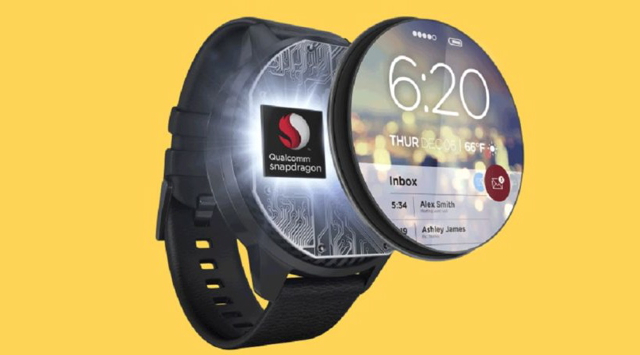 Qualcomm also introduced Snapdragon Wear 1100 chips for devices targeted at smartwatches, fitness trackers, smart headsets, and wearable accessories, says VentureBeat.
"Snapdragon Wear 1100 is targeting purpose-built wearables, or those that are designed only around a few usage cases," explained Qualcomm smart wearables executive Pankaj Kedia, who says the company is focused on smart bodies, smart homes and smart cities. "These kinds of products… still require low power, high integration, small size, and a good connected experience."
Qualcomm, which opened its wearable chip division in 2014, now has 100 wearable products based on its chips. The company says it has an 80 percent market share of Android Wear-based devices.
Topics:
Android Wear
,
Atheros
,
Broadband
,
Chip
,
Computex
,
Fitness Tracker
,
GigaDSL
,
Headsets
,
Internet of Things
,
Japan
,
Mark Grodzinsky
,
MIMO
,
Modem
,
NEC
,
Olympics
,
Pankaj Kedia
,
Qualcomm
,
Smartwatch
,
Snapdragon Wear
,
South Korea
,
Sumitomo Electronic
,
Taiwan
,
VDSL
,
Wave Electronics
,
Wearable
,
Wi-Fi