Although its first experiences with HTML5 were just short of disastrous, Facebook is now using it again to expand Instant Games to developing countries via Facebook Lite and to interest communities via Facebook Groups. Because smartphone processing power and mobile browser app technology have improved, HTML5 is now able to support more complicated games, and Instant Games can launch in a mobile browser or directly into Groups. Currently, 90 million people take part in 270,000 Facebook Groups about gaming each month.
TechCrunch reports that, "the expansion demonstrates how serious Facebook is about becoming a gaming company again." It harkens back to the company's "desktop days," when game platforms, such as those from the likes of Zynga, "racked up tons of usage, virality, and in-game payments revenue for Facebook." As mobile usage dominated desktop, those revenues declined and now have "stabilized at around $190 million per quarter."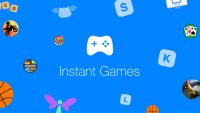 Facebook debuted Instant Games and Gameroom, a desktop software hub, in late 2016; Instant Games rolled out internationally in mid-2017 and opened to all developers in 2018. Since then, it's grown into "a sustainable business" that is "compatible with Facebook's playable ads that let developers lure in users from the News Feed."
The big bucks are in ads, rather than from in-app purchases on Instant Games "on iOS where it doesn't allow IAP due to Apple's policies, or on Android since it began forgoing its cut last month." Facebook is now "prioritizing" games thanks to "Instant Games on Messenger, Facebook's desktop site and main mobile app via bookmarks, its new Fb.gg standalone gaming community app, and now Facebook Lite and Groups."
Variety reports that, with regard to games, Facebook has also offered "more features for developers, most notably monetization options." Developers will be able to "monetize through advertisements and in-app purchases," and Facebook will also "be tweaking the Games page, focusing on improving games' discoverability." That's good news for developers who have gravitated to Instant Games after Facebook opened it up to third party developers in March.
"Combined with the Facebook Lite launch, the monetization changes now make Instant Games a new serious platform and competitor in the mobile game market," says Variety. Facebook reported that, "Instant Games held 1.7 billion play sessions in just the past month alone, and their daily player base has gone up 25 percent from June to September."
Topics:
Advertising
,
Android
,
Apple
,
Apps
,
Developers
,
Discovery
,
Facebook
,
Facebook Groups
,
Facebook Lite
,
Fb.gg
,
Gameroom
,
Gaming
,
HTML5
,
In-App Purchases
,
Instant Games
,
iOS
,
Messenger
,
Mobile
,
Mobile Browser
,
Monetization
,
News Feed
,
Smartphones
,
Social Media
,
Zynga