Professional sports are often the first to embrace new technology because their fans demand the best experiences available. That's why the professional sports arena is now integrating immersive technologies including augmented reality, virtual reality and the Internet of Things. The Sacramento Kings use Reddit, Facebook Live, video streaming, virtual reality and bitcoin to immerse their fans in an interactive world. Meanwhile, Los Angeles Clippers chief executive Steve Ballmer is launching CourtVision to offer more interactivity for fans.
VentureBeat reports that the Kings' Golden 1 Center stadium, for example, allows for integration of AR, VR and IoT, and includes "a 6,000-square-foot data center with two 100 gigabit-per-second pipes" that provide fans enough bandwidth to power over 500,000 Instagram photo uploads and Snapchat snaps per second.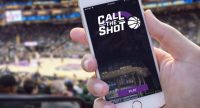 The NBA in-arena experience will soon feature augmented reality, "while VR is being used to broadcast select games on TV." Magic Leap just inked a partnership with the NBA, after having Shaquille O'Neal testing out its as-of-then unreleased AR headset, Magic Leap One. But many sports teams won't wait for such headsets to have a significant install base, "but instead can already deploy smartphone-activated AR in their arenas."
By enabling fans' mobile devices, "sports franchises can provide new ways to connect each person to the physical stadium around them." With on-board sensors, these iOS and Android devices "can communicate with everyday stadium technology … connecting the video board, ticket scanners, turnstiles, ibeacons, and yes, concession stand cash registers."
Variety reports that former Microsoft chief exec Steve Ballmer has long "dreamed of bringing interactivity to TV." Now, with the Los Angeles Clippers, after four years of development with partner Second Spectrum (in which Ballmer is an investor), "Clippers CourtVision will allow viewers to customize the game-watching experience with a range of visual bells and whistles far beyond the on-screen graphics on display in a typical televised sporting event."
CourtVision can be accessed on iOS or Android devices via the Fox Sports mobile app "for subscribers of pay-TV services in the Los Angeles market that carry the Fox Sports Prime Ticket channel, the exclusive TV home of the Clippers."
CourtVision offers three options to add to a traditional broadcast: mascot mode "inserts fun animations like a lightning bolt that appears to electrify the actual backboard after a player makes a shot," player mode projects "over player's heads the probabilities they can hit a shot based on where they are on the court …. [and] based on player statistics that change on a near-real-time basis." The third, "coach mode," can "diagram the plays the athletes are executing seconds after they occur." Both artificial intelligence and augmented reality combine to enable CourtVision's modes.
"What we want to do was require a machine to understand the game like a coach or a human did to augment the proper things," said Second Spectrum co-founder/chief executive Rajiv Maheswaran. The company "is also exploring potential applications in other sports including soccer and hockey."
Topics:
Android
,
Augmented Reality
,
Bitcoin
,
CourtVision
,
Facebook Live
,
FOX Sports
,
Golden 1 Center
,
Instagram
,
iOS
,
IoT
,
Magic Leap
,
Magic Leap One
,
Microsoft
,
NBA
,
Rajiv Maheswaran
,
Reddit
,
Sacramento Kings
,
Second Spectrum
,
Shaquille O'Neal
,
Snapchat
,
Sports
,
Sports Arenas
,
Steve Ballmer
,
Streaming
,
Television
,
Video
,
Virtual Reality