DirecTV has joined the ranks of those looking to bring more 4K content to consumers. During New York's TranSPORT conference, DirecTV's Phil Goswitz confirmed that the company plans to launch a live 4K broadcast service sometime early next year. He said live sports transmissions are currently being tested and DirecTV has the ability to transmit up to 50 new UHD channels. Goswitz explained that DirecTV is "moving into working with partners" for more 4K content. CBS, ESPN and Fox are among the networks that have also been experimenting with live 4K production.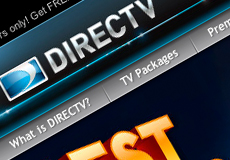 "DirecTV already has the hardware in place, and according to Goswitz, the company wants to get ahead of cable companies and provide viewers with 4K content they can't get from their cable companies," reports Ars Technica.
"I think the belief that there are technology challenges is a bit of a misinformed myth," said Goswitz, SVP of video and space communications. "I think technology throughout the entire ecosystem is ready. But I think content is king; the plane is ready to take off and there is no king on board."
"Netflix and YouTube have some 4K video ready to stream, but most companies continue to focus on hardware," notes Ars. "Roku and TiVo recently came out with updated set-top boxes ready for 4K streaming, but they still have to work with the finite amount of 4K content available."
Tech execs speaking at a NeuLion Sports Media & Technology panel recently suggested that 2016 would be the year of live 4K sports broadcasting.
According to Sports Video Group, "The technology has been integrated into the production flow for some NBA games on ESPN, and Fox and CBS used 4K cameras to shoot some footage for the 2014 World Series and Super Bowl XVII, respectively."
"Forty percent of people are going to have UHD TVs coming out of Christmas and they are going to be looking for something to watch," added Goswitz. "Our goal is to have them tuned to DirecTV and have as much linear live content, especially sports content, as soon as possible."
Topics:
4K
,
AT&T
,
Broadcasting
,
Cable
,
CBS
,
DirecTV
,
ESPN
,
FOX
,
Hardware
,
Internet
,
Live TV
,
MLB
,
NBA
,
Netflix
,
NeuLion
,
New York
,
NFL
,
OTT
,
Pay TV
,
Phil Goswitz
,
Programming
,
Roku
,
Satellite
,
Sports
,
STBs
,
Streaming
,
Super Bowl
,
Television
,
TiVo
,
Transport
,
UHD TV
,
Ultra HD
,
Video
,
World Series
,
YouTube