According to Deloitte's 13th annual digital media trends survey, more millennials in the U.S. currently subscribe to a game service than to a traditional pay TV service. Approximately 53 percent of those born 1983-1996 pay for gaming services, while 51 percent from the same age group pay for television. Last year, Deloitte found that 44 percent of U.S. millennials had paid subscriptions for video games and 52 percent for television. Results of the latest survey were revealed as new game services from the likes of Apple, Google, Microsoft, Ubisoft and others have recently debuted or are planned to launch soon.
Deloitte's Kevin Westcott credits growing interest in gaming on mobile devices for the shift in media consumption among younger audiences. "Gaming companies have also been developing more compelling content and interaction with their consumers," he added.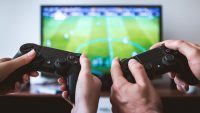 "Paid television through cable, satellite or fiber — for instance Comcast Corp.'s Xfinity, Dish Network Corp. or AT&T Inc.'s U-verse TV — has been challenged by changing viewer habits, particularly the rise of direct-to-consumer streaming services," reports Reuters.
"At the same time, video games and e-sports have soared in popularity, giving rise to an industry of competitive professional and amateur games watched in person and online by fans, alongside more casual gaming on mobile phones."
At E3 this week, Ubisoft announced it plans to launch a streaming game service in September for $14.99 per month. "That price includes access to a library of more than 100 of the publisher's titles, with more on the way," notes TechCrunch. "Ubisoft has some stiff competition on its hands, with streaming services from big names like Microsoft, Apple and Sony. The company does have an interesting ally in the battle however, with Google Stadia."
EA offers subscriptions to its popular games for Microsoft's Xbox and Sony's PlayStation, explains Reuters. Google recently "unveiled Stadia, its new browser-based video game streaming service to launch this year through its cloud technology." Also, Apple "introduced a new digital video game subscription service called Apple Arcade."
"Google plans a limited launch in November of its Stadia service, which the company says will stream any title to any device," ETCentric reported yesterday. "Microsoft, meanwhile, is building its Project xCloud on Azure, its own cloud network. Because every game on Xbox One, including Xbox 360 backward-compatible titles will be able to run on xCloud, the new service will debut with 3,500+ game titles. Microsoft said a beta version of its xCloud service will debut in October of this year."
Related:
Mobile Games Now Account For 33% of Installs, 10% of Time and 74% of Consumer Spend, TechCrunch, 6/11/19
Topics:
Apple
,
Apple Arcade
,
AT&T
,
Azure
,
Cloud
,
Comcast
,
Deloitte
,
Dish Network
,
E3
,
Electronic Arts
,
eSports
,
Gaming
,
Google
,
Kevin Westcott
,
Microsoft
,
Millennial
,
Mobile
,
Pay TV
,
Sony
,
Stadia
,
Streaming
,
Subscription
,
Television
,
U-verse TV
,
Ubisoft
,
Video Game
,
Xbox One
,
xCloud
,
Xfinity