During CES in Las Vegas, Samsung introduced its new Sero TV, which is designed to rotate 90 degrees in order to display vertical video content — the portrait mode that is commonly recorded via today's mobile phones. The format is increasingly popular on social media platforms (such as Snapchat, TikTok, Instagram and YouTube), and will soon become a focus of Quibi, the short-form streaming video service from Jeffrey Katzenberg and Meg Whitman. The 43-inch 4K Sero TV — "designed for the mobile generation" — has the ability to sync with Samsung smartphones and can automatically rotate based on the content being viewed.
According to CNN, "Samsung hopes the product will appeal to Millennials who mostly watch or shoot vertical videos on their phones and who might want to watch those videos on a much bigger screen. ('Sero' means vertical in Korean)."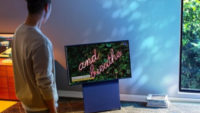 The new model is part of Samsung's "Lifestyle" line that features two other 4K QLED UHD smart TVs: The Serif (with an emphasis on its design aesthetic) and The Frame (which displays artwork when not playing video).
The Sero originally debuted in Korea, but will be coming to the U.S. sometime this year. Details regarding pricing and availability have yet to be released.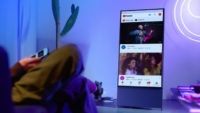 It can switch from its default landscape mode "to a portrait orientation," reports The Verge, enabling you "to watch Instagram stories, TikTok videos, Snapchat content, and the portrait video recordings from your camera roll blown up on a relatively big screen — without heinous pillarboxing black bars on the left and right sides."
"Sero has an integrated, non-removeable stand that includes a 4.1-channel, 60-watt speaker system inside," notes The Verge. "That stand provides enough vertical clearance to prevent the TV from hitting the floor whenever it flips into portrait. Galaxy phone owners can tap their device against the Sero's frame to immediately begin screen mirroring. iPhone users will have to use the included remote control to manually switch the screen to portrait, but full support for AirPlay 2 is included."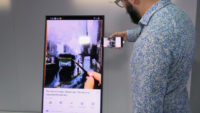 The Sero features a 4K Ultra HD screen and QLED color: however, it is edge lit and does not include full-array local dimming. While some early reports praise the innovative design, others have dismissed the concept as a bit of a gimmick.
Topics:
4K
,
AirPlay 2
,
Apple
,
CES 2020
,
CTA
,
Galaxy
,
Instagram
,
iPhone
,
Jeffrey Katzenberg
,
Landscape Mode
,
Meg Whitman
,
Millennial
,
Portrait Mode
,
QLED
,
Quibi
,
Samsung
,
Sero TV
,
Smart TV
,
Smartphone
,
Snapchat
,
Social Media
,
Streaming
,
Television
,
The Frame
,
The Serif
,
TikTok
,
Ultra HD
,
Vertical Video
,
Video
,
YouTube