At Daimler's keynote address at CES 2020, filmmaker James Cameron unveiled concept art, including Pandora's future world, for his upcoming feature "Avatar 2," sequel to his 2009 sci-fi blockbuster. On stage, he joined Daimler AG chair Ola Källenius, who introduced a Mercedes-Benz, dubbed Vision AVTR, inspired by "Avatar" and designed in collaboration with Cameron. The two described their design work, which includes many sustainability features. Disney is slated to release "Avatar 2" on December 17, 2021, with three more "Avatar" films in 2023, 2025 and 2027.
Variety reports that Daimler dubs Vision AVTR as "a completely new interaction between human, machine and nature." The German automaker noted that "Vision AVTR" also stands for "Advanced Vehicle Transformation," with an "organic design language" and a look inspired by "several creatures from Cameron's movie."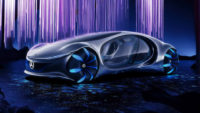 The car has 33 "bionic flaps" (below) designed to look like reptilian scales that can communicate with and through the driver "via naturally flowing movements in subtle gestures." The car can also "drive the front and rear axles in the same or opposite direction," which means it can move "sideways by approximately 30 degrees in a 'crab movement'." In lieu of a steering wheel is a "multifunctional control element in the center console that recognizes the driver by his or her heartbeat and breathing."
Daimler built a "curved display module … [to create] a visual connection between passengers and the outside world," and a passenger can lift a hand to have a menu projected onto her palm. With regard to sustainability, the Vision AVTR uses "organic battery technology made of recyclable materials that is completely free of rare earths and metals and is compostable" as well as seat covers made of "vegan Dinamica leather" and floorboards built from Indonesian Karuun wood.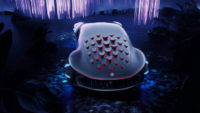 CNET reports that the autonomous Vision AVTR, which it called a "crazy-weird concept car," looks like a "typical futuristic bar of soap, with a light-up badge and illuminated spokes in the wheels" — and no doors. It notes that the 33 bionic flaps "supposedly supply the vehicle with energy, along with providing the driver and passengers with incredible views of the outside world … [with] these projections … then displayed on a huge screen in the front of the vehicle, which has a kind of triangular (OK, thong-shaped) design."
The car's biometric connection to the driver, according to Mercedes, is intended to merge the automobile and its human driver into a "symbiotic organism." The Vision AVTR can be adapted for passengers and children, offering the latter a so-called Magic Pool, with "learning-oriented gaming and a child-friendly augmented reality experience." Buildings, mountains, rivers along the route are "shown with facts and info. "
Although Daimler detailed the vehicle's sustainable materials, "as for the rest of the car's mechanicals, we don't have a lot to go on." "There are a lot of forward-thinking concepts and technologies baked into this show car, but really, it exists less as a vision of the German automaker's future and more of a one-off creation with 'Avatar' in mind," CNET concludes.
Topics:
Augmented Reality
,
Automotive
,
Autonomous Vehicles
,
Avatar
,
Avatar 2
,
Battery
,
Biometrics
,
Bionic
,
CES 2020
,
Concept Car
,
CTA
,
Daimler AG
,
Disney
,
Gaming
,
Germany
,
Gestural Interfaces
,
Interface
,
James Cameron
,
Mercedes-Benz
,
Movies
,
Ola Källenius
,
Self-Driving Car
,
Sustainability
,
Vision AVTR