Amazon CEO Jeff Bezos unveiled the company's new Fire Phone yesterday in Seattle. The 4.7-inch smartphone, which features a 3D display that detects where eyes are looking on the screen with "Dynamic Perspective," will be available July 25 starting at $200. The device includes a scanning feature with its Firefly app, which allows users to scan products, signs, UPC or QR codes (ideal for shopping on Amazon), and Shazam-like features to identify songs and pinpoint scenes in movies or TV shows.
Four cameras located in the front corners of the screen enable the "Dynamic Perspective" feature. "Using the camera's face-tracking input, you can look around onscreen objects, even peer behind them," reports Wired. "It's not about popping-out-of-the-screen 3D, but about infusing a sense of depth and realism into a bunch of flat pixels."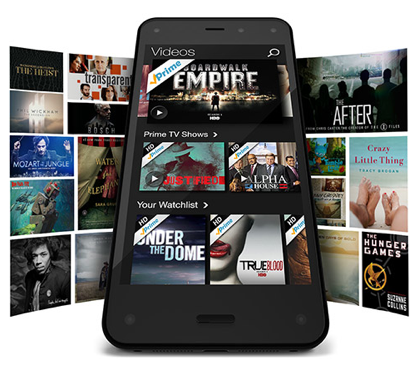 The feature also makes using the phone with one hand easier. "You can tilt the phone to scroll through news articles or books, as well as navigate through screens," notes the article.
The Fire Phone packs a 2.2GHz Qualcomm Snapdragon 800 system-on-a-chip with 2GB RAM, and a 2,400 mAh battery, 13-megapixel main camera with optical stabilization, Dolby virtual surround sound, and free unlimited storage on Amazon Cloud Drive.
Similar to the Kindle Fire tablets, the phone runs a heavily modified version of Android. However, it does not run all Android apps. Amazon's Appstore currently has 240,000 apps (Android and iOS each offer about five times that), and most of the major apps involving games, social networking, video and music are available, with some notable omissions. Instagram and Uber will be available by launch, for example, while Snapchat and YouTube will not.
While the ability to compete with Android and iOS devices in the long term will be contingent upon developers creating new apps, Amazon's new handset is about much more than new features and communication.
"The Fire Phone, the product of four years of research and development, offers Amazon fans the chance to live in an Amazon-themed world, where just about every element can be identified, listed, ranked, shared and, of course, ordered," explains The New York Times.
"Like every other piece of the company's hardware, this is a phone built to be a pocketable Amazon pop-up store," suggests Wired. "The phone, like Amazon's e-readers, tablets, and new set-top box, are meant as a way to mainline Amazon's deep coffers of content. Amazon Prime, the company's $99-a-year pass to two-day shipping, streaming videos, and now streaming music, is offered free with the phone for a full year to get you hooked."
The Fire Phone will be available July 25 for $200 (32GB) or $300 (64GB), with two-year contracts from exclusive carrier AT&T.
A video of the Amazon press event is available on YouTube. Details on Dynamic Perspective start around 40:20.
Topics:
3D
,
Amazon
,
Amazon Prime
,
Android
,
App
,
AT&T
,
Audio
,
Camera
,
Cloud Drive
,
Dolby
,
Dynamic Perspective
,
E-Reader
,
Fire Phone
,
Firefly
,
Google
,
Instagram
,
iOS
,
Jeff Bezos
,
Kindle Fire
,
Launch
,
Mobile
,
Movies
,
Music
,
Phone
,
QR
,
Qualcomm
,
Retail
,
Scan
,
Scanner
,
Seattle
,
Shazam
,
Shipping
,
Shopping
,
Smartphone
,
Snapchat
,
Snapdragon
,
Social
,
Songs
,
STB
,
Streaming
,
Surround Sound
,
Tablet
,
TV
,
Uber
,
UPC
,
Video
,
YouTube