Amazon is taking on Google with the launch of its Video Direct ad-supported video service, which allows anyone to upload original or licensed video content, similar to the YouTube model. Amazon account holders will have the options of offering their content for free, to rent or own, via a subscription channel, or exclusively to Amazon Prime members. The move is another step in Amazon's push into media as the company continues to invest in original programming and exclusive deals with the likes of HBO and Epix, while introducing a month-by-month subscription option to compete with Netflix.
The Seattle-based online retailer "once again has Google in its sights, a fierce rivalry that spans online shopping, cloud-computing storage, same-day delivery and consumer devices," reports The Wall Street Journal.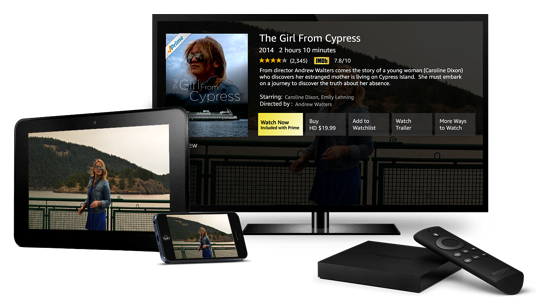 Video Direct will be available on "iOS and Android tablets and phones, connected TVs, Amazon Fire TV devices and game consoles," explains Variety. "The company also said it will provide detailed performance metrics, such as number of minutes a title was streamed, projected revenue, payment history and number of subscribers."
Video Direct will provide Amazon with an affordable option for expanding its video offerings. According to Wedbush Securities analyst Michael Pachter, Amazon currently spends about $3 billion on streaming video per year.
Attempting to unseat the dominant YouTube is an ambitious goal. "More likely, Amazon aims to capture new users through the free video service and persuade them to buy Prime subscriptions, content for their devices or additional merchandise through its namesake site," suggests WSJ.
"Think of this like a Trojan horse to bring you into the kingdom of Amazon, which is a massive shopping mall," said Peter Csathy of consulting firm Manatt Digital Media Ventures. "It really underscores how video has become the battleground in tech."
Topics:
Ad-Supported
,
Advertising
,
Alphabet
,
Amazon
,
Android
,
Cable
,
Channel
,
Cloud
,
Delivery
,
Download
,
E-Commerce
,
EPIX
,
Fire TV
,
Google
,
HBO
,
iOS
,
Manatt Digital Media Ventures
,
Michael Pachter
,
Movie
,
Netflix
,
Online Shopping
,
Original Programming
,
Peter Csathy
,
Prime
,
Retail
,
Seattle
,
Streaming
,
Subscription
,
TV Show
,
Video
,
Video Direct
,
Wedbush Securities
,
YouTube