After a year in beta testing, YouTube Music is finally available for Android and iOS. The app — meant to compete with streaming music offerings such as Apple Music, Pandora, Rdio, Spotify and Tidal — emphasizes music videos and amateur recordings. YouTube's catalog of 50 million songs does not mean a video for every song, since the collection mixes video, audio-only, fan covers, emerging indie artists and much more. Discovery continues to be the underlying focus, and each song is connected to an auto-generated station of related songs. YouTube Music also blends human and algorithmic curation, similar to Apple Music's approach.
"Yet rather than mimic Apple in tasking a human staff to build hundreds of playlists around specific artists, producers and genres, YouTube focuses its human resources on one taste-making playlist: the Daily 40, deemed the most culturally relevant songs and music videos of the moment," reports The Wall Street Journal.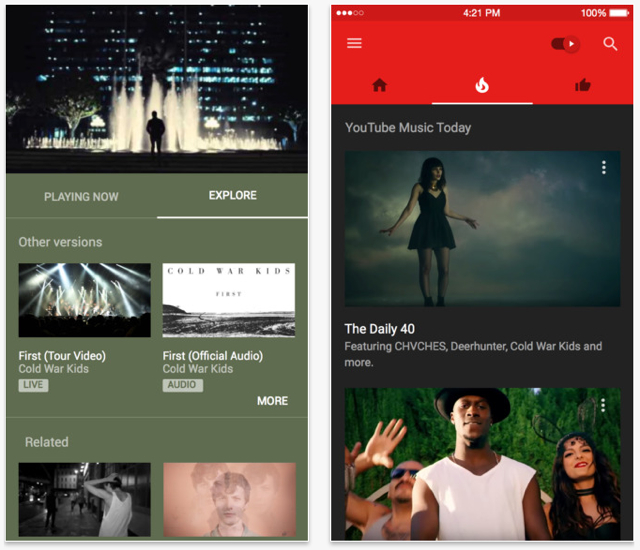 "We want the Daily 40 to be the place you go to know what everyone else is watching and talking about and sharing," said T. Jay Fowler, head of music products at YouTube.
Users have the option of a free, ad-supported tier or the YouTube Red subscription for $9.99 a month.
To address concerns regarding the impact to data plans (especially with video), the YouTube Music team "built both an offline mode, which saves songs and videos on a user's phone, and an audio-only mode, which removes videos entirely," notes WSJ.
Wired points out that the new service could be an effective mechanism for established and emerging artists alike since YouTube's audience is unique in that it is much more social than other services. YouTube users "love to engage. They watch, like, and share. They make remixes, covers, lyrics clips, and response videos."
YouTube can also potentially reach in excess of one billion users at once. "Compare that to Spotify's 75 million users or Apple Music's 15 million," says Wired.
Topics:
Ad-Supported
,
Advertising
,
Algorithms
,
Alphabet
,
Android
,
App
,
Apple Music
,
Artist
,
Audio
,
Bands
,
Curation
,
Daily 40
,
Data Plans
,
Deezer
,
Discovery
,
Google
,
iOS
,
Mobile
,
Music
,
Music Videos
,
Pandora
,
Playlists
,
Rdio
,
Remixes
,
Rhapsody
,
Smartphone
,
Songs
,
Spotify
,
Streaming
,
Subscription
,
T. Jay Fowler
,
Tablet
,
Tidal
,
Video
,
YouTube
,
YouTube Music
,
YouTube Red