Facebook just launched Notify, an iOS mobile app for push notifications of customizable news, information and entertainment. Posted directly on the lock screen, Notify lets the user choose which cities, sports teams, music genres he wants to follow, from among 70 publishers. The feed features a link to the associated site for a 24-hour period. The user can save the content to read later or share through Facebook or other social media platforms. Notify does not, however, offer real-time discussion or feature ads.
According to TechCrunch, what makes Notify stand apart is the degree of customization; users can choose from a wide range of news and entertainment sources and subscribe to "very specific sub-topics," including favorite teams or weather in a selected zip code.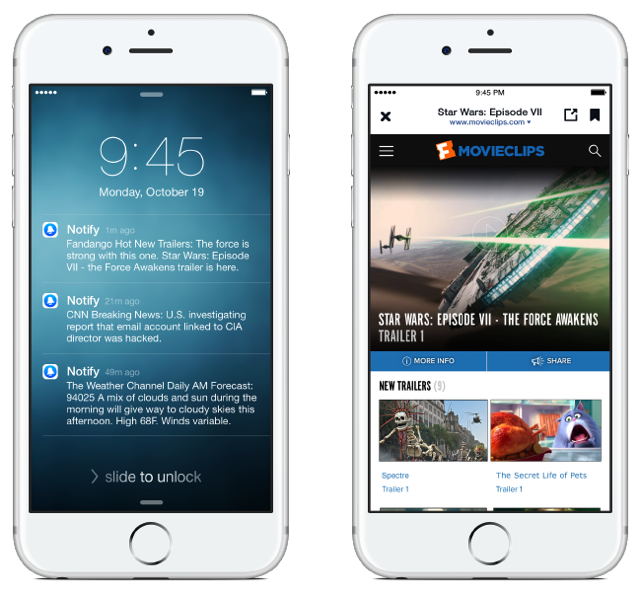 "The key here is for people to create the mix that matters to them. We really wanted to build a platform that's diverse so that people can tune it," said Notify product manager Julian Gutman.
Re/code reports that, "Facebook is adamant that Notify is not a news reader… because you can get all kinds of content on Notify that isn't news, like music videos from Vevo or daily deals from Groupon."
Why build an app at all, when Facebook already has its News Feed? "People have different ways they want to consume information," explained Facebook product director Michael Cerda, who told Re/code that "mobile notifications are their own medium, separate from Facebook or any other news consumption platform."
"Search is one way," he said. "Social is another way. And we think push notifications might be yet another. We see that as an evolving medium and want to be a part of that."
TechCrunch notes that push notifications can get "extremely annoying" and points out that "Facebook's had trouble popularizing its standalone apps like Paper and Slingshot, and its last invasion of the lock screen, Home, was a giant flop." It also notes that a publisher might find that Notify is cannibalizing its own audience and "quit dedicating resources to producing notifications."
If Notify does succeed, it's because it's a "totally different value proposition" — and that people want more notifications.
Topics:
Advertising
,
App
,
Customization
,
Facebook
,
Feature Ads
,
Groupon
,
Home
,
iOS
,
Julian Gutman
,
Lock Screen
,
Michael Cerda
,
Mobile
,
Mobile App
,
Music
,
Music Video
,
News Feed
,
Notify
,
Paper
,
Publisher
,
Push Notification
,
Search
,
Slingshot
,
Social Media
,
Sports
,
Vevo
,
Video